Layout of the "Federation" is tested in wind tunnels
The model of the Russian manned spacecraft "Federation" is undergoing a series of tests in the wind tunnels of the Central Aerohydrodynamic Institute (TsAGI). Zhukovsky transmits
TASS
message source in the DIC.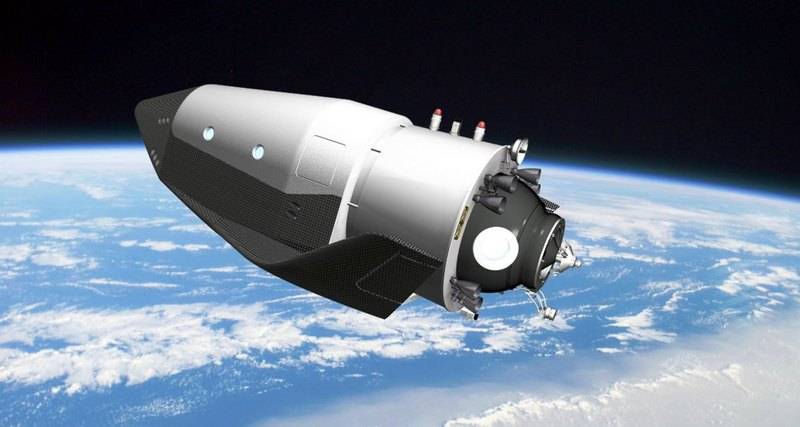 The model of the ship was delivered to the institute to perform a series of tests in wind tunnels, experiments are currently underway. It is planned to test the model in supersonic and hypersonic flow,
told the source to the agency.
According to him, "the distribution of pressure and heat on the surface of the ship will be studied during movement in the atmosphere, an air flow around the model will be constructed, and so on."
It is noted that "in contrast to Soyuz, the Federation will be installed on the launch vehicle in the open form — the surface of the ship's nose will perform the function of the head fairing."
The source said that TsAGI also plans to "investigate the behavior and controllability of the ship in the air when the main unit is fired from a rocket in the event of an accident at the start or during launch".
The task of the rescue system is to lead the head unit with the ship away from the emergency rocket, after which the capsule with the astronauts will land in a safe place.
The system, installed on the Soyuz, "consists of a rocket engine rod docked at the end of the head fairing and lattice stabilizers folded on the sides of the fairing (they make the separable unit aerodynamically stable)," explains the publication.
The "Federation" emergency rescue missile unit, like the Soyuz, "will have a barbell, but with two engines (the control engine is taken out separately at the end of the barbell), it will be docked directly to the bow of the ship," the article says. The engines are separated, since there will be no stabilizers on the new ship - the control engine will ensure sustained emergency flight in the atmosphere.
Help agency: "Spacecraft" Federation "developed by RSC Energia is designed to deliver people and cargo to near-earth orbit, as well as to the Moon, the crew will be up to four people. In the autonomous flight mode, the ship will be able to stay up to 30 days, and within the orbital station - up to a year. It is planned to use the Soyuz-5 launch vehicle to bring the Federation into orbit.