The first in Russia and the world floating NPP "Akademik Lomonosov" on Saturday went from St. Petersburg to Murmansk, and then - to the port of Pevek on the north coast of Chukotka, reports
Look
.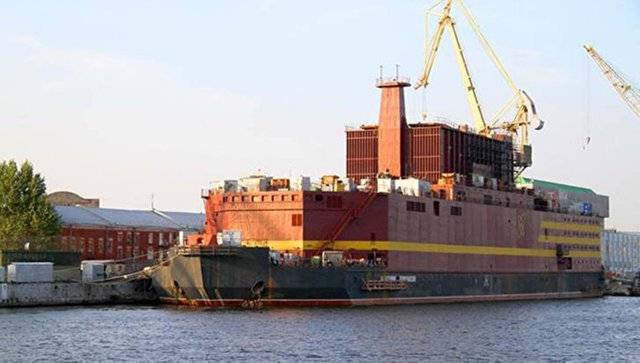 From 2020, the floating nuclear thermal power plant (FNPP, or "buoy", as such stations are called atomists) will start supplying light and heat to the inhabitants of Chukotka.
Reactor installations of such FNPP can produce up to 70 megawatts of electricity and provide light and heat to a city with a population of over 200 thousand people.
It is assumed that the floating nuclear power plant, like "Akademik Lomonosov", will be able to provide electricity and port cities, and Arctic gas and oil platforms for 35-40 years.
A reasonable question arises - how much more profitable is it than the traditional "northern delivery".
Anyone who has come across what it is to deliver diesel fuel via the Northern Delivery and what the price of this electricity goes to then understands that many fields and cities in the North do not develop because they do not have access to a cheap and efficient energy source.
said the former head of Rosatom, and now the first deputy head of the presidential administration, Sergei Kiriyenko.
"Judging by last year's study of the Center for Energy Efficiency (CENEf), electricity tariffs in the northern regions of 15 reach 20 – 237 rubles per kilowatt-hour, 5 – 55 times higher than the average in Russia. This is critical for those areas of the North where there are no coal or gas deposits nearby. On the other hand, nuclear scientists insist: the cost of electricity at the floating nuclear power plant is approximately equal to the wholesale price of electricity in central Russia. It turns out that the advantages are obvious, "the newspaper writes.
According to the director of the Institute for Energy Problems and a member of the Nuclear Society of the Russian Federation, Bulat Nigmatulin, "the first document on the" buoyancy "was signed in 2001 year". Designed and built the station for a long time.
In 2010, they promised to put it in two years and put it into operation in 2013, then they moved it three years later. Now, the start date is called 2020 year
said Nigmatulin.
But, thank God, now the "buoy" will go. Once it is built - now we need to show its implementation in order to then offer something abroad,
added on.
Earlier it was reported that floating nuclear power plants have already become interested in 20 countries.