The foreign ministers of Russia, Turkey and Iran held a meeting in Moscow. The main agenda of the meeting is the continuation of cooperation in the direction of the Syrian settlement. According to Sergey Lavrov, the interaction of the three countries led to such progress in resolving the Syrian conflict, to which dozens of meetings in the so-called Geneva format did not lead, where the so-called "friends" of Syria continue to "steer".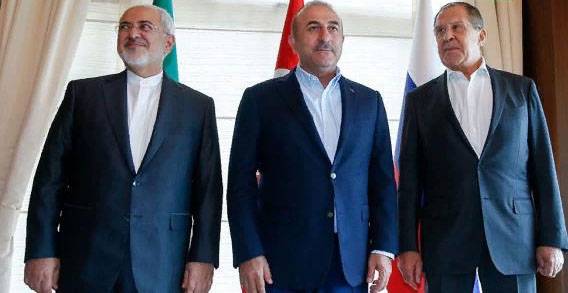 During the consultations in the Russian capital, Sergey Lavrov, Mevlüt авavushoglu and Mohammad Javad Sharif reaffirmed their commitment to a common and main goal - to preserve the unity of the Syrian Arab Republic against the backdrop of the accession of the long-awaited peace in this country.
The Turkish Foreign Minister noted that only the territorial integrity of Syria - without anyone claiming to the Syrian territories - can be a guarantee for a settlement in the SAR.
The foreign ministers of the three countries also discussed such a question as the proposal by Syria of a new constitution, which would take into account the interests of each of the peoples inhabiting Syria. At the same time, the foreign ministers relied on agreements between dozens of ethnic and confessional groups that represented Syrian society and Syrian political realities at the famous congress in Sochi.
Sergei Lavrov noted that attempts have now been made by individual countries, including the United States, to hinder work on resolving the Syrian conflict and on making constructive efforts to build a new, unified Syria. The Russian Foreign Minister noted that the recent US-Anglo-French missile attack of Syria under a false pretext became such an act of aggression.
Apparently, the proposed draft constitution of Syria proposes the federalization of the country. This was repeatedly stated by politicians not only in the Russian Federation, but also in Syria itself. An open-ended question is whether Bashar Assad will leave his post after the new draft constitution of Syria is implemented. Unless, of course, realize it will give the "Syrian friends."