Photos of the action poster, which are going to coincide with the next anniversary of the Great Victory, have appeared in social networks. We are talking about an event at the monument to Alexander Matrosov, which the "scriptwriters" called (attention!) "Tasting of besieged bread". The photo of the poster with its negative evaluation was published, in particular, on Armen Gasparyan's page in
Twitter
: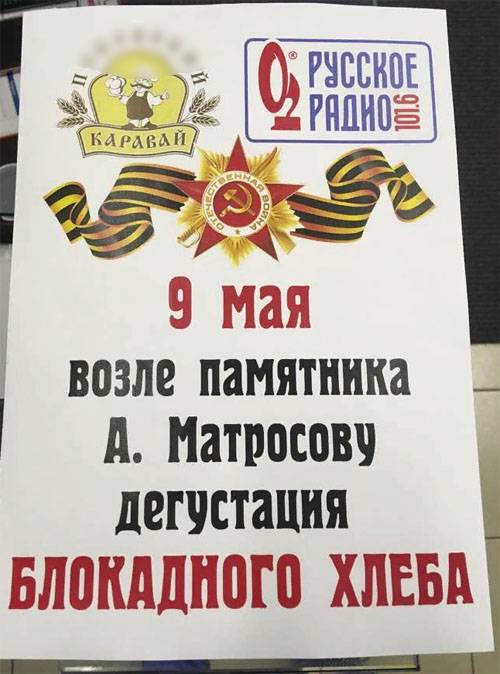 Armen Gasparyan represents the central council of the Russian Military Historical Society.
If this picture is genuine, and the action with "tasting blockade bread" will indeed be held by a company that bakes bakery products, then it looks like a real blasphemy. To "taste" the fact that 70, more than a few years ago, for the residents of besieged Leningrad was not just bread, but what was equated with life itself, is a frank search. Bust from those who are in the pursuit of profit ready to go to the most cynical advertising tricks.
Moreover, the very word "tasting" depresses when it comes to blockade bread ...
Or so now business representatives are attracting the attention of the younger generation to
stories
countries, and all around - retrogrades, not understanding the essence of the moment? ..