The situation in Syria. Russian Aerospace Forces destroyed dozens of militants in Idlib
During the shelling of Damascus, four local residents suffered. The Turkish armed forces attacked the SDF in Hasak. The Russian Aerospace Forces eliminated several dozen terrorists in Idlib. Reports about it
FAN
with reference to Syrian sources.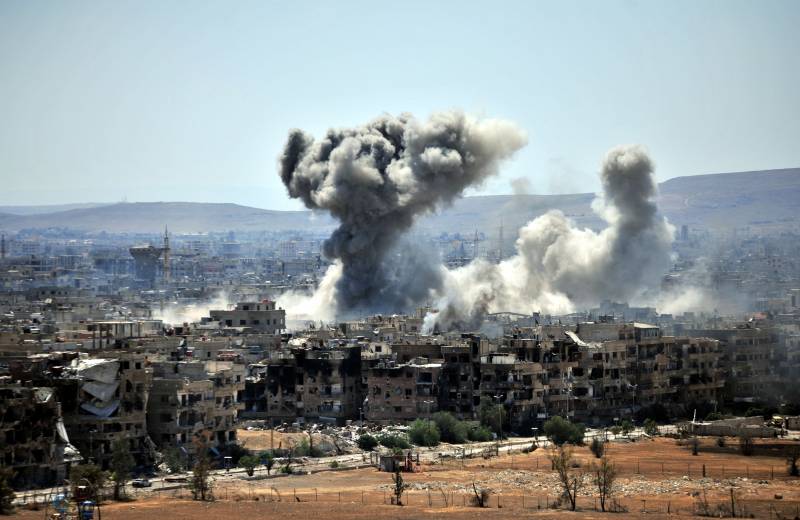 During the day, the Russian Aerospace Forces and the Syrian Air Force attacked the strongholds of the terrorists of the "Islamic State" (IG, grouping prohibited in the Russian Federation) south of the Syrian capital. Also, the shelters of radical Islamists on the outskirts of Damascus were subjected to intense shelling from the Syrian Arab Army (CAA). Government forces moved in the areas of Al-Jura, Al-Asali and Hajar al-Aswad towards the Zane district. In turn, igilovtsy fired at al-Qadam from their positions in Hajar al-Aswad. Four local residents were injured.
Russian and Syrian
aviation
struck at strong points "Jebhat al-Nusra" (banned in the Russian Federation) in the southern part of Idlib province. A number of objects of the Islamists were destroyed and several dozen militants were liquidated. Under the cover of military aircraft in this part of the region, an offensive of the Syrian army began. Not far from the city of Serakib, an Al-Nusra car was blown up by a mine. According to the news agency Al-Masdar News, as a result of the explosion, the spiritual leader of the radical coalition Abdullah al-Muhaysini was wounded. In the evening, laid down by terrorists, IED detonated in the western part of the region. The incident killed three women, several children were seriously injured.
The armed forces of Turkey attacked the position of the Syrian Democratic Forces (SDF) near the village of Mayselun in the north of Hasaka province. According to the Fars News news agency, as a result of the shelling of the Turkish army, several soldiers of the Kurdish militia were killed. In the city of Kamyshly the warehouse
weapons
and ammunition "democratic army". There is no information about the victims. In connection with the incident in the village and its environs, a curfew was declared. In the evening, the Anadolu agency reported that a convoy of military equipment had entered the territory of Hasaka province, as well as personnel of the French Armed Forces. The servicemen arrived at the US Armed Forces base in the city of Ramilan through Iraq.
http://www.globallookpress.com