Channel "Russia" publishes new details of the terrible tragedy in the House of Trade Unions in Odessa. Recall that while the victims were 47 people, and the result has not yet decided on the real accused.
On the channel
"Russia"
The article came out with reference to Israeli journalists, who managed to talk with the Georgian mercenary, who called himself a Euromaidan sniper. A Georgian citizen said that he was aware of who financed and coordinated the radicals, and also who had ordered to block the approaches to the building of the House of Trade Unions in order to detain firefighters.
The name of the Georgian mercenary is called Caesar Badzhalidze. According to him, the order to "burn and break everything," came from Andrei Parubiy.
Badzhalidze:
Parubiya orders were - to break everything, burn everything on the road. The fire started, but there were no firefighters. He ordered firefighters not to be allowed (to the building).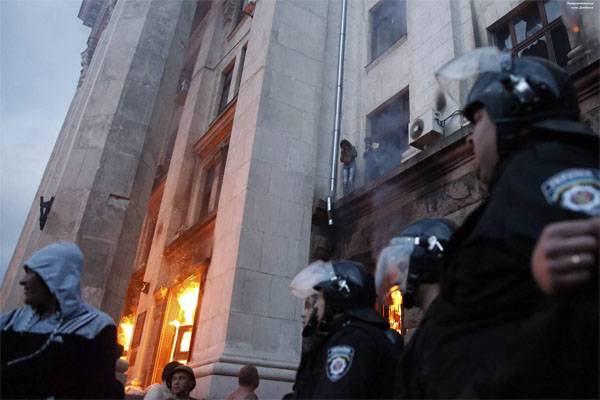 The police preferred not to intervene.
As a result, the work of fire brigades was as complicated as possible, which in turn led to a large number of deaths.
The presented decoding of the conversation with the fire service operator of Odessa contains the words that the fire engines are stopped and captured at the entrance to the House of Trade Unions.
In the revelations of Badzhalidze the name of Saakashvili pops up. According to Badzhalidze, at first they promised him that it would be Saakashvili who would give the money, and then "Gunpowder" (as a sniper from Georgia calls President of Ukraine Petro Poroshenko).
These statements Badzhalidze made for the Israeli Russian-language TV channel
ILand TV
.