In paragraph MTO Russian
fleet
a floating workshop PM-82 from the Baltic Fleet arrived in Tartus
News
.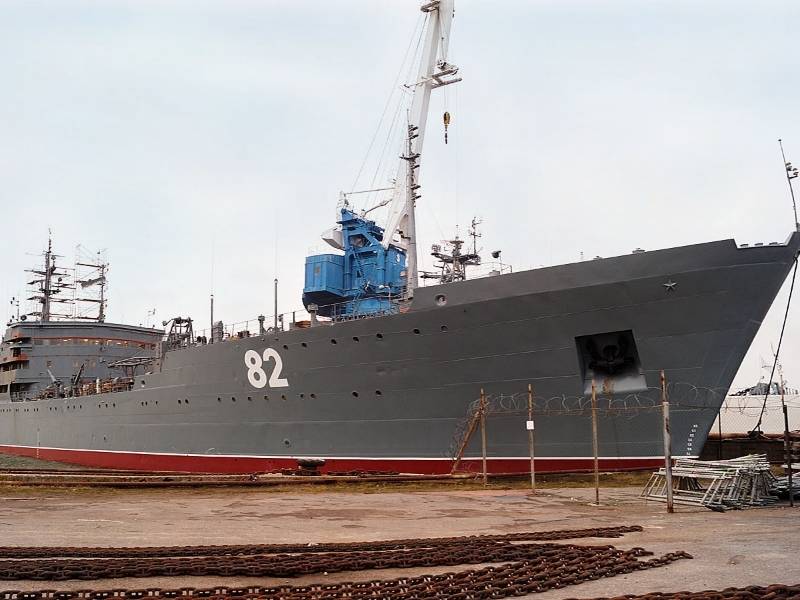 In Syria, this support vessel will be delayed for 6 months and will be responsible for the combat readiness of the Russian Navy ships.
"Plavmaster PM-82 made the transition to the Mediterranean Sea and became part of the permanent connection of the ships of the Russian Navy off the coast of Syria. The use of PM-82 will make it possible to remove a significant part of the burden of current repairs from the Black Sea Fleet support ships, "the newspaper told the military.
Floating workshops are designed for urgent repair of ships, their weapons and technical equipment in areas remote from the main points of deployment. They have machinery equipment and lifting devices.
The workshop is armed with two 25-mm double-barreled automatic ship-mounted guns.
The USSR Navy until 1991 held the fifth squadron in the Mediterranean. It is also called the Mediterranean. It was formed from the ships of the three fleets - the Black Sea, Baltic and Northern. Accordingly, in Tartus were floating workshops of all these fleets. Most often they were responsible for the inter-hinged repair of ships and submarines. Usually the work lasted about two weeks. At this time, the crew of the ship was sent to the beach for recreation,
told the former Chief of Staff of the Navy, Admiral Valentin Selivanov.
According to him, the Soviet sailors also provided great assistance to the Syrian army, repairing warships of this country.
PM-82 project 304 built in Poland in 1978 year. In 2015, it was upgraded. The crew of the vessel - 193 person.