On the eve of Russia gave the entire civilized world the opportunity to personally see the "victims of the chemical attack in Eastern Gute" and talk with them. The people who the White Helmets used in their fake report - the boy Hassan Diab with relatives, as well as the doctors of the hospital in Duma, including Dr. Khalil al-Jaish, arrived in The Hague, where the OPCW headquarters is located.
A briefing with the participation of Syrian citizens organized the Russian representative office of the OPCW, exposing the frank fake "white shakers". In order not to be in the position of those who are poking their nose at their own fecal product, delegations from several countries refused to participate in the meeting. It's about the United States, Britain, France, as well as their NATO allies and not only NATO. It was unbearable for them to listen to the truth, as Russian permanent representative at the OPCW Alexander Shulgin noted.
There are details of how the US permanent representative literally persuaded colleagues from other delegations to refuse to participate in the meeting. From the statement of Alexander Shulgin:
Permanent Representative to the OPCW lay down bonesso that his colleagues do not come to the briefing organized by the Russian and Syrian delegations on the situation in the city of Duma.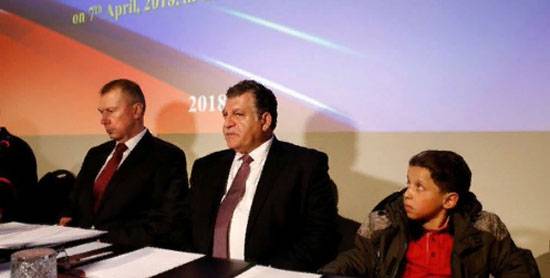 Permanent Representative of the Russian Federation:
They are probably afraid to face the truth. They are afraid to look into the eyes of little Hassan. They have done something wrong, then they have bounced aside and are now sitting quietly in their corner, they say, this does not concern us. But the truth somehow comes out.
It is noteworthy that many Western media ignored the briefing with the participation of the immediate hostages of the White Helmets provocation.
However, there were also those who nevertheless decided to present objective data, giving their readers (viewers) the opportunity to find out the truth, which in modern conditions (for all attempts by feykomets and their American-British patrons and sponsors) to cover in any case will not succeed.