The organizers of the Ukrainian branch of the movement "Immortal regiment" inform the media about the preparations for the celebration of 9 in May. The newspaper Izvestia, citing representatives of the movement, reports that the plans of the Ukrainian organizers are to bring about one million people onto the streets of cities of Ukraine with portraits of their relatives participating in the Great Patriotic War, home front workers.
It is known that the procession will take place not only in Kiev and in the cities of the east of Ukraine - for example, in Kharkov, but also in other regions of the country - Dnipropetrovsk, Odessa, Zaporizhia, Lviv, and Nikolaev.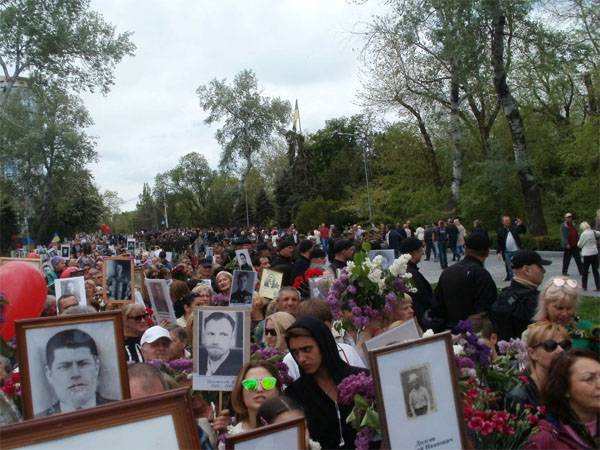 It is noted that Ukrainian radicals are also preparing for the march of the Immortal Regiment. In their own way ... They have already expressed threats to all those citizens of Ukraine who are going to take part in a public rally in memory.
The organizers of the action "Immortal regiment" in an interview
"Izvestia"
reported that they have to declare their march "under neutral slogans", otherwise the applications could simply be rejected by local authorities, who either are among the radicals or are afraid of retaliation by those. It is noted that representatives of the public movement are ready for confrontation with the radicals on the streets.
The potential mass of the procession shows how many people are actually in Ukraine against that bacchanalia with
historical
a memory that is encouraged by the state. But the processions are passing, and the Maidan power in Kiev remains ...
Last year's Odessa leaflet: