About a month ago, before the barbaric bombing of Syria, an important event occurred in Washington. The Senate Armed Services Committee, chaired by John McCain, held a meeting to assess the military potential of the world's most exclusive country.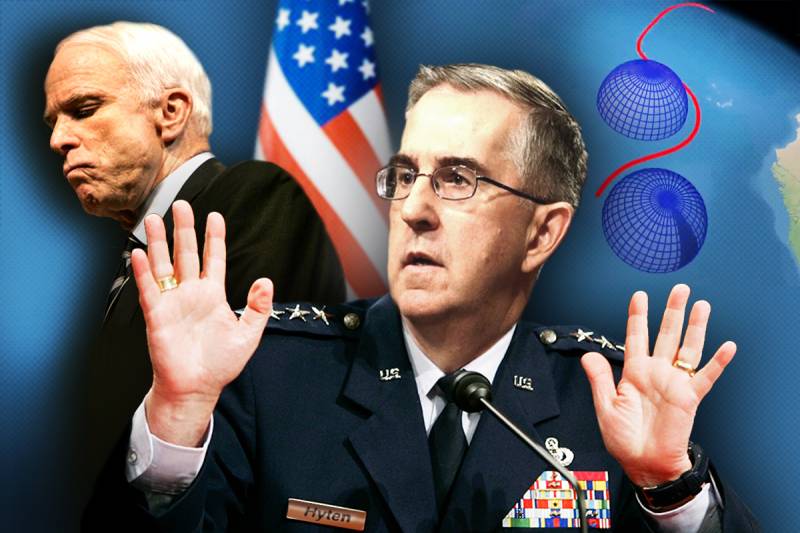 The outcome of the meeting was bright and impressive: "We are helpless," said a member of the committee, a senator from Oklahoma, James Inhof. Russia and China are ahead of the United States in the development of ultrafast rocket technologies. Their hypersonic
weapon
able to destroy America!
Interestingly, immediately after the Russian President addressed the Federal Assembly, which referred to new types of weapons, the Pentagon stated that it was "not surprised" and assured its citizens that it was "fully prepared" to respond to such a threat. But! .. The head of the Strategic Command (STRATKOM) of the US armed forces, General John Heithen, was forced to admit that the US missile defense system could not resist the hypersound.
"We do not have protection against such weapons," he said, and said that Washington continues to rely on nuclear deterrence.
To the question "Does the US really lag behind Russia and China in hypersonic armaments?" Thomas Karako, who heads the missile defense program at the Center for Strategic and International Studies, answered categorically: "Yes". And then he added: "One of the reasons that the development of hypersound was not a priority for us is that we did not appreciate Russia and China with their missile developments on time."
Officials of the Pentagon, in turn, actively promoted proposals for increasing the budget for hypersonic projects and missile defense, which would help bridge the gap with Russia and China.
Director of the notorious US Department of Defense Project Management (DARPA) Stephen Walker requested an increase in funding for missile testing programs. And Senator Inhofe concluded: "The armed forces should be our priority."
Therefore, economic sanctions against our country with high probability were, are and will be. America is vitally interested in blocking Russia in all important areas. As you know, a wounded beast is the most dangerous. And there is no doubt that the chronic participants in the round dance around the trough in the United States will not only fill their pockets with enthusiasm, but also ecstatically take revenge on Russia for its own failures.