After resigning from the post of Prime Minister of Armenia Serzh Sargsyan, the ruling coalition ceased to exist in the country. From the coalition, two deputies of the Dashnaktsutyun faction first came out, in which there are seats (from 7) in the national assembly of 105, and then the entire small fraction announced its withdrawal. Representatives of Dashnaktsutyun stated that they are taking the side of the opposition leader Nikol Pashinyan.
However, at the moment, the Republican Party of Armenia still has the majority in the parliament - 58 seats, which theoretically gives it every opportunity to stand for the candidacy of the future prime minister and approve it. And such a candidate was nominated - Deputy Prime Minister Karen Karapetyan. Today, during the day, information appeared that Karapetyan resigned after Sargsyan and wanted to get to the airport in Yerevan, but the protesters blocked his way. In the government of Armenia, these statements are refuted.
Karapetyan as acting Prime Minister met with the head of the EU mission, Peter Svitalsky. Svitsalsky, traditionally for the EU (remembering the beginning of Ukraine's 2014), said that the current authorities must make concessions, which the "people of Armenia" demands. The fact that the people of Armenia are not only the people who came to the center of Yerevan today is, of course, a representative of the EU mission.
Head of the Cabinet Press Office Aram Araratyan:
Reports of Karapetyan's resignation are not true.
The opposition, without leaving the streets of Yerevan, declares that the "people's prime minister" will arrange it, unambiguously let us understand that, according to their version, only an opposition man - the same Nikol Pashinyan - can become the prime minister.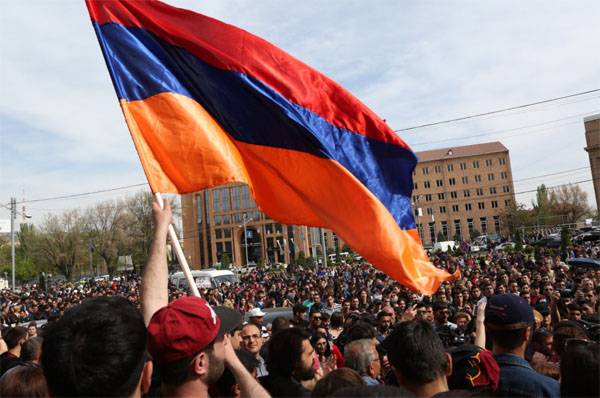 It was Pashinyan who today called on supporters to go out into the streets again in order that the Republicans would not declare the person from their party prime minister.
Thus, the Armenian opposition makes it clear that if a person from her circles does not become a prime minister, the protests will continue. And if the parliamentary majority party surrenders its position, as it did in due time
Party of Regions
(Ukraine), after what time the opposition will declare that "Armenia and Russia are not on the way"? Or is it still not the case?