The third (second serial) fiberglass minesweeper project 12700 "Ivan Antonov" solemnly launched at the Middle Nevsky shipbuilding plant in St. Petersburg.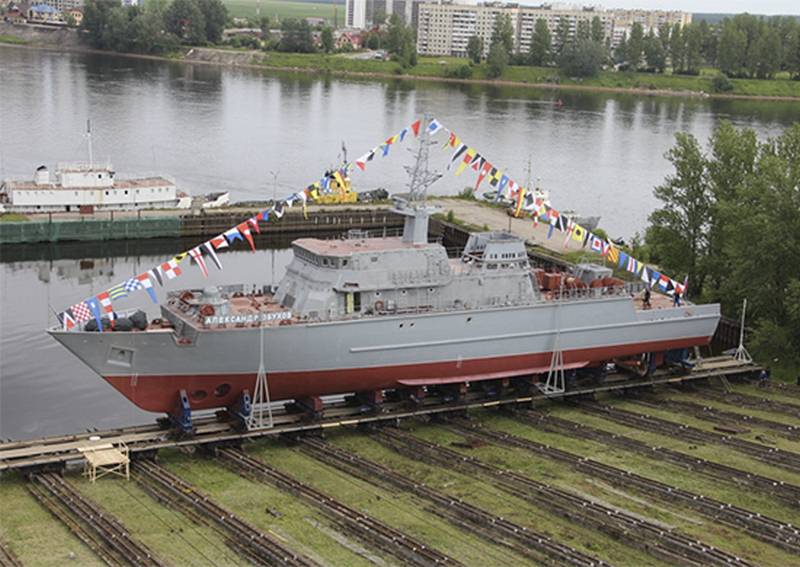 Today is a significant day, the launch of the ship "Ivan Antonov". The plant entered the second century with new technologies. Together we are modernizing the plant and getting new results ... Antonov was awarded the title of Hero of the USSR in 22, this is a good example for us how to work and love our Homeland
- said the general director of the plant Vladimir Seredokho.
It was noted earlier that the mine defense ships of the 12700 project will form the basis of the mine-sweeping forces of all fleets.
The minesweepers Alexandrite of the 12700 project are designed by the Almaz Central Metallurgical Bureau.
The marine base minesweeper "Ivan Antonov" is the third and second serial ship of this type. The contract for its construction was signed with the Ministry of Defense of the Russian Federation in April 2014. It was laid at the Sredne-Nevsky Shipyard on January 25, 2017. The ship is planned to be transferred
the fleet
this year.
Minesweepers of the 12700 project are able to use the latest hydroacoustic stations located both on the ship itself and on remote-controlled and autonomous underwater vehicles, and they have an automated mine action control system. Able to use traditional and traditional weapons. The ships of the Alexandrite series have a unique hull made of monolithic fiberglass, formed by vacuum infusion.
The lead ship of the 12700 project, Alexander Obukhov, is already performing tasks as part of the Russian Navy, the following four ships (George Kurbatov, Ivan Antonov, Vladimir Emelyanov, and Jacob Balyaev) are at different stages of construction.