French President Emmanuel Macron, who visited the White House and met with Donald Trump, said that in Paris they were ready to begin work on a "new agreement" on the Iranian nuclear program. Such a statement Macron made during a joint press conference with Trump.
According to Macron, the following new priority points should be designated in the agreement: the termination of any "nuclear activity" in Iran by 2025; make sure that Iran has no places where nuclear research activities could be carried out; the cessation of missile development by Iran; the creation of a political platform that will contain Iran's activities in the Middle East, including Iraq and Syria.
According to Macron, he expects that the "new agreement" will be supported by other countries, including Russia and Turkey.
At the same time, the French president did not answer the question that he was not particularly satisfied with the existing agreement with Tehran.
Psychological Detail: Macron internally does not accept what Trump says to him: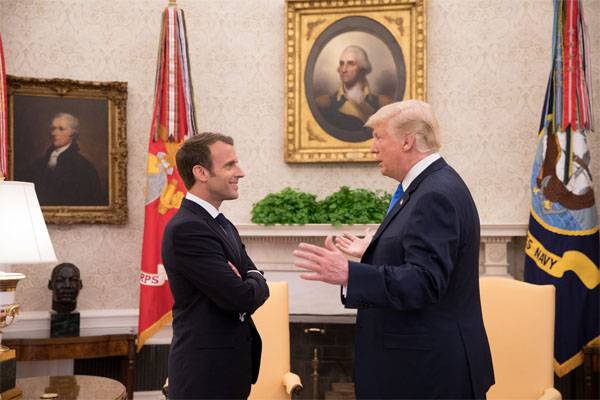 Recall that a few days ago, the Iranian Foreign Ministry noted the following: if the US withdraws from the previously reached agreement, Tehran will have to proceed with the resumption of nuclear development.
Israel's Defense Minister Avigdor Lieberman, who said yesterday that Israel "does not interfere in the internal affairs of Syria, is visiting Washington today in Washington. The ministry's press service notes that in the US, Lieberman plans to discuss regional security issues, including "spreading Iran's influence in Syria."