Journalists of the portal The Infographics Show decided to find out which American equipment spent the most money. It turned out - the B-2 Spirit stealth bomber, designed to break through the enemy's air defense, reports
Rossiyskaya Gazeta
.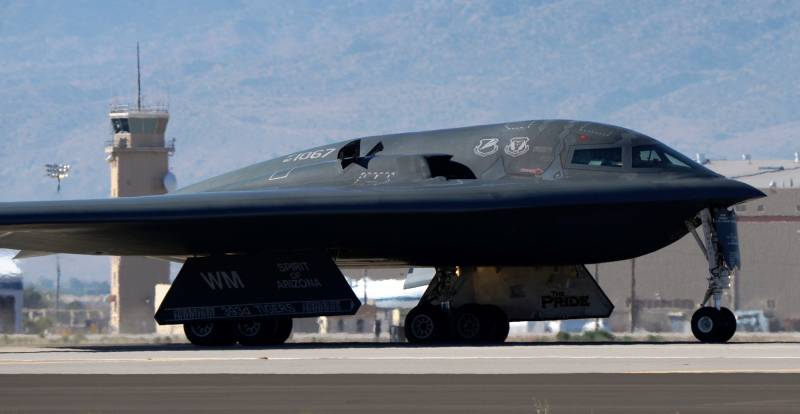 Built according to the "flying wing" scheme, the aircraft can carry both conventional and thermonuclear charges. His creation began at the end of 1970's under Jimmy Carter and continued under Ronald Reagan. The cost of the project is constantly growing.
"The first aircraft cost 737 millions of dollars, after modifications this amount increased to 929 millions. After another improvement in 1997, B-2 Spirit cost 2,1 a billion dollars apiece, "the material says.
Congress approved the construction of 20 aircraft worth $ 44,65 billion.
It is noted that "the cost of buying and operating a B-2 bomber exceeds the price equal to it in weight (empty mass - 71,7 tons, normal take-off weight - 152,6 tons) mountains of gold."
Currently, the US Air Force has 20 such aircraft. They are planned to be operated until the 2032 year.
It is assumed that the high price of the bomber is associated with the coating material. "The radio-reflecting material used to create a stealth plane absorbs water. The frictional force that occurs in flight heats the surface of the aircraft, as a result of which the water absorbed by the coating begins to boil away, leaving bubbles on the surface of the expensive material. As a result, stealth aircraft is reduced. The need to eliminate coating defects (bubbles) arises after each flight, which causes a high cost of service, "writes the publication.
According to experts, this theory has a weak spot: "it is not known whether B-2 is capable of accelerating to the speed at which the coating material heats up to the boiling point of water." However, experts agree that "paint used is very expensive." A repair, which is carried out at least once in 7 years, costs $ 60 million per aircraft.
Many believe that the price for B-2 ($ 2,1 billion) is artificially overpriced due to "financial tricks". In their opinion, the acceptable price for one aircraft is about $ 500 million, not more.