The newest icebreaker of the North
fleet
(SF) "Ilya Muromets" will continue testing in the Kara Gate between the islands of Novaya Zemlya and Vaigach, said the chief of the press service of the Northern Fleet, Captain First Rank Vadim Serga. The crew of the newest icebreaker of the Northern Fleet, Ilya Muromets, continues to work on the ice test plan in the Arctic.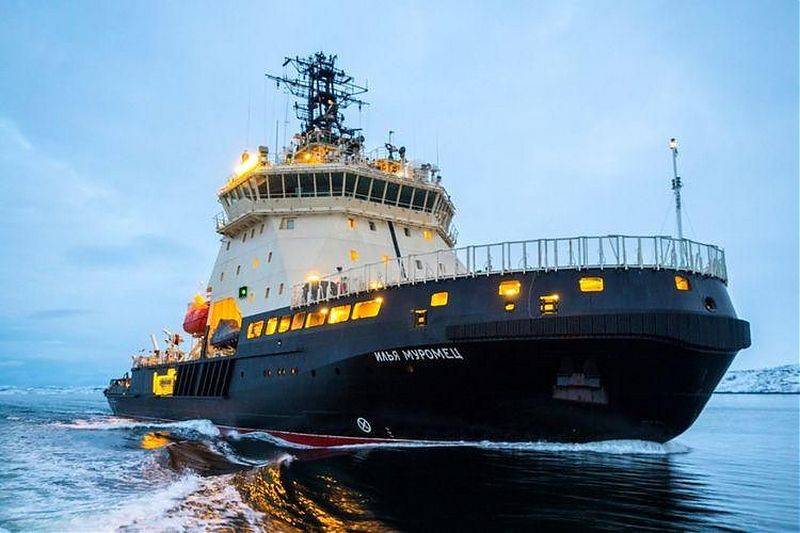 The weather is generally conducive to testing. Wind blows from south-west at speeds up to 10 meters per second. Ice - one-year, cohesion to 10 points. Ice thickness varies from 30 to 80 centimeters, sometimes up to a meter. In these conditions of ice conditions, the new equipment confirms the characteristics declared by the manufacturer.
- said in a statement.
The icebreaker Ilya Muromets icebreaker left Murmansk on April 12. After three days in the eastern part of the Barents Sea, he reached the ice edge and began tests that will last several more weeks.
The vessel was laid at the Admiralty Shipyards 23 on April 2015. Launched in June 2016. With a length of 85 meters and a width of about 20 meters, the icebreaker has a displacement of about 6000 tons. It has high seaworthiness and autonomy of navigation, is equipped with a helipad, equipped with a crane with a loading capacity of 26 tons to perform loading and unloading operations.
The icebreaker "Ilya Muromets" can be used for comprehensive support of the actions of the fleet forces and for conducting scientific research in the Arctic.