The US State Department approved the sale of anti-submarine helicopters Sikorsky MH-60R Seahawk Mexican army, reports "Warspot" with reference to the portal navaltoday.com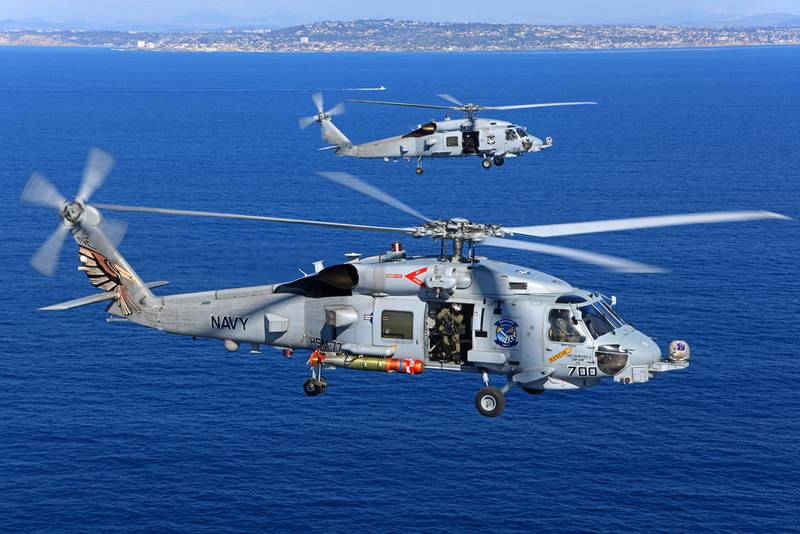 The Ministry of Defense of Mexico asked the US for eight MH-60R Seahawk helicopters (eng. - "skua") with a full complement of equipment and weapons. In particular, the State Department approved the sale of multi-mode radar APS-153 (V), identifiers of "friend or foe" AN / APX-123, target detection systems AN / AAS-44C and other equipment.
As for weapons, along with helicopters, Mexico can buy AGF-114 Hellfire and APKWS II missiles, light Mk-54 torpedoes, as well as M-240D and GAU-21 machine guns. The total cost of the deal could be $ 1,2 billion. Earlier, the Mexican Ministry of Defense already bought UH-60M Black Hawk helicopters from the USA.
Sikorsky MH-60R Seahawk helicopters are anti-submarine modification of the UH-60 Black Hawk helicopter. The helicopter Sikorsky UH-60 entered service with the American army in 1979, replacing the Bell UH-1. It is known that today in service with the American army is about 2500 helicopters UH-60 in various versions, in addition, Black Hawk is exported and manufactured under license in other countries. The helicopter holds up to 14 people (including three crew members) and can carry small arms, missile and bomb weapons, as well as reconnaissance modules.