It became known that in the vicinity of Russian military facilities in Syria, the United States carried out aerial reconnaissance. The Hmeimim air base and the Russian Navy object in Tartus were monitored from the air by the long-range strategic reconnaissance drone RQ-4B Global Hawk, as well as by the electronic intelligence and combat aircraft EP-3E Aries II.
It is known that the reconnaissance drone flew into the air from Sigonella base (Sicily, Italy) and cruised several hours near the sea borders of Syria and Lebanon at an altitude of more than 15 thousand meters. The plane EP-3E Aries II flew from an air base on the Greek island of Crete.
Also, an American DRLO E-3A Sentry AWACS aircraft was raised from the air base near the city of Konya (Turkey). He flew over the northern provinces of the Syrian Arab Republic.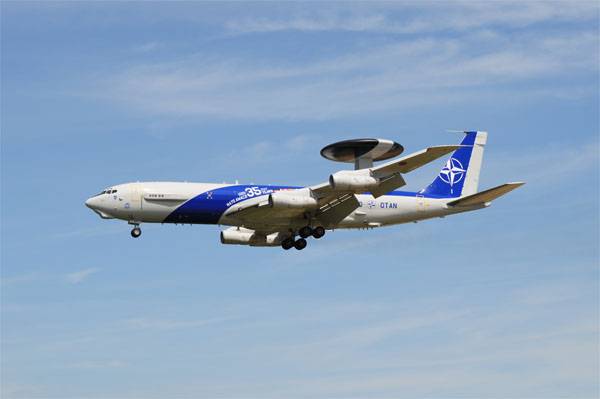 NATO aircraft system AWACS
It can be assumed that the activity of reconnaissance from the air (and, apparently, not only from the air) from the US increased due to statements in the press that the C-300 air defense system could be supplied in the CAP in the near future. In one of the foreign publications last week, it was stated that C-300 to Syria "has already been delivered - unloaded from the BDK in the port of Tartus under the cover of aerosol protection."
Israel is extremely sensitive to any information about the potential supply of defensive assets, which are air defense systems, to the ATS. Thus, the Director of the Eurasian Department of the Israeli Foreign Ministry, Alex Ben-Zvi, stated that the S-300 "could threaten the security of Israel, and therefore this issue is of great concern to us." Ben-Zvi confirms the information that the Israeli ambassador was called to the Russian Foreign Ministry after the Israeli
aviation
strikes at the T-4 airbase in Syria.