There are details regarding the incident in Canadian Toronto. It is reported that the driver of the van sent the car to people in the North York area. The head of the police department says that, according to the initial data, the driver acted consciously, and therefore the incident qualifies as a terrorist act. The resonance to this event is given by the fact that the meeting of the foreign ministers of the so-called G7 is taking place in Toronto.
It is known that 10 people died and 15 were injured, at least five of them are in critical condition, two injured are in grave condition. Among those killed when a car hit Toronto was a woman with a child. He was in a wheelchair at the moment when the attacker sent his van to the pedestrian zone.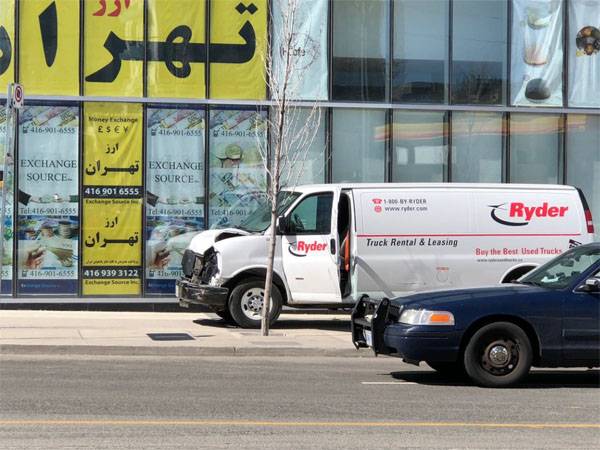 Events developed as follows: a white van drove onto the sidewalk, began to turn over retail outlets and crush people. The driver was detained only half an hour after it became aware of the first dead and wounded. The suspect is Alik Minasyan, a 25-year-old resident of the suburb of Toronto. His social network account states that he is a student at one of the local colleges. It was he who was driving the van.
From the police report:
It is established that the suspect does not belong to any terrorist organization.
At the same time, the motives of the suspect are not reported.
The car was leased to the suspect several hours before the crime was committed. The company providing car rental services, said it was ready to fully assist the investigation.
This information caused a resonance in the Western media. But the recent terrorist attack in Kabul in the West did not cause any information rush, although tens of people died there. Apparently, the western "partners" have long divided the planet into first and second class people, and therefore in one case, actions from the "Let's highlight the television tower in the colors of the national flag" series are launched, and in the other - silence and only a few headlines in the vast segment of the Western press. .