Top of career
In 1939, Pavel Vasilievich became commander of the 9th Army Air Force, which took part in the war with Finland. After that, Levers was again transferred to the Far East. Receiving the rank of lieutenant general in July
aviation
, Pavel Vasilievich took the position of Head of the Main Directorate of the Air Force of the Red Army. At that time he was only 29 years old. And in March 1941, Rychagov became deputy People's Commissar of Defense of the USSR.
Pavel Vasilyevich faced a difficult task - to launch a new generation of aircraft. Therefore, he was a frequent guest in the units that began the development of Mig-3, Yak-1, LaGG-3, Pe-2 and Il-2. Rychagov helped pilots to "tame" new equipment and advice, and deed. He was afraid of failure, because the situation in the country was heated to the limit. The repression continued, and none of the commanders could feel safe. Levers knew perfectly well what made him able to occupy a high position. After the execution of Alksnis, they did not stay long at such a high post. Loktionov lasted from November 1937 to November 1939. He and Smushkevich (took office after Loktionov) were shot on 28 in October on 1941 (this date will be fatal for Rychagov with Nesterenko).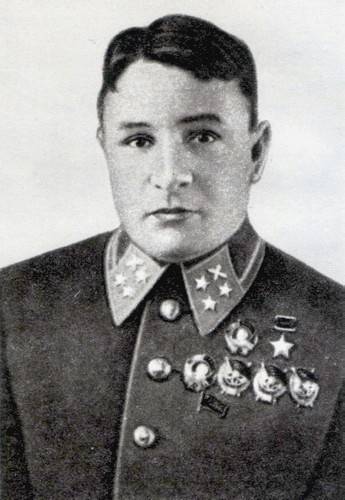 Dmitry Panov recalled this: "The last time I saw Rychagov was at the gate of the General Staff courtyard, where he was called after China. A luxurious black lacquer "ZIS" drove up and out of it, through the lowered glass, Pashka Levers began to smile at me. Everything on him was red: and diamonds, and for some reason a reddened face. "Healthy!" Pashka greeted me with a wave of his hand, and I saluted, not without respect for the Commander-in-Chief of the Air Force, with whom I had recently stumbled around Kreshatik. A good jet carried Pasha, but he rode, greeting me, straight to his death. God forbid from the lordly anger and lordly love, or as they say in the army: "Every curve around the authorities, in short, any straight line." The leading place for Pasha Rychagov turned out to be slippery, still covered with the blood of his predecessor, the glorious Alksnis. "
Pavel Vasilyevich differed explosive temper. He did not like, as they say, to beat around the bush, preferring to tell the truth in the forehead. Moreover, this model of behavior was used by him and with subordinates, and even with the "top".
Being in a management position, Rychagov quickly figured out the situation regarding the skill of the pilots. He realized that their qualifications needed to be raised, and it was necessary to make it "yesterday". And Pavel Vasilievich did not hesitate to talk about this issue.
Once, together with other chiefs of the Levers, I was at a meeting with Stalin. Joseph Vissarionovich wanted to hear a report on the development of new flight technology. Then came the topic of pilots training. And here Pavel Vasilyevich declared to Stalin: "30 hours will be enough unless the pilot has crashed. And he still needs to be able to fight. 120 hours are required as a minimum! "To this statement, Joseph Vissarionovich responded:" 120 hours of flying time ... Boyish reasoning. We are not going to throw fuel into the wind. " But, despite this reaction, the words of Rychagov produced the desired effect. The fact is that after some time an order was signed to increase the flying hours for combat pilots.
And all the same, despite the loyal attitude of the authorities, Pavel Vasilyevich walked around the edge. According to the memoirs of contemporaries, Levers never broke, and did not want such a high position and power. But he could not refuse. Moreover, Rychagov perfectly understood the precariousness of his position. And once he said: "I came from the troops, to the troops and leave."
Pavel Vasilyevich had two serious, if I may say so, flaws. The first is his character, and the second is friendship with Yakir. Most likely, all this influenced the fate of Rychagov. But first, the head of the Main Directorate of the Air Force made a mistake.
Once, during a regular meeting with Stalin on aviation, a question was raised about the death of the pilots. A record appeared in the protocol: "Every day, on average, one dies in case of accidents and catastrophes of an 2 — 3 aircraft, which is a year of 600 — 900 aircraft."
Admiral Ivan Isakov, who also attended the meeting, recalled in his memoirs: "It was about the accident rate in aviation, the accident rate was great. According to his habit, Stalin smoked a pipe and walked along the table. Those, then other explanations of accidents were given, until the turn reached Rychagov. He was young at all, and he looked like a perfect boy in appearance. And when the turn came to him, he suddenly said:
- Accident and will be big, because you are forcing us to fly on the coffins!
It was completely unexpected, he blushed, broke, there was absolutely deathly silence. There were only Levers, not yet withdrawn after his cry, purple and agitated, and Stalin stood a few steps away. Stalin gave a lot of effort to aviation, he worked on it a lot and understood the issues related to it.
Undoubtedly, this remark of Rychagov in such a form sounded for him a personal insult, and everyone understood that. Stalin stopped and was silent. Everyone was waiting for what will happen. He stood, then walked past the table, in the same direction in which he was walking. Reached the end, turned, walked the whole room back in complete silence, turned around again, and taking the pipe out of his mouth, said slowly and quietly, without raising his voice:
- You shouldn't have said that!
And he went again. I reached the end again, turned around again, went through the whole room, turned around again and stopped at almost the same place as the first time, and again said in the same low calm voice:
"You shouldn't have said that," and, after a tiny pause, he added: "The meeting is closing."
And the first out of the room.
Soon, namely 12, April, 1941 Rychagov was removed from his post. No, he was not arrested, but sent to the Air Force Academy of the General Staff to study. Probably, then Pavel Vasilyevich thought that trouble had passed by. He was engaged in improving skills and dreamed of returning to his usual work.
But there was another failure behind him, which, due to the stubbornness of the head of the Red Army Air Force Main Directorate, cost the lives of several pilots.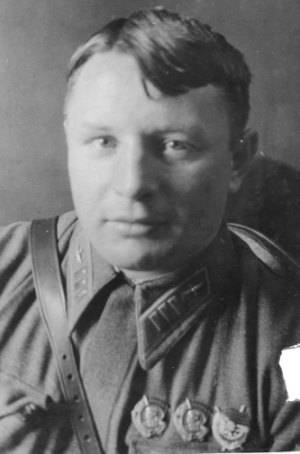 Dmitry Panteleevich Panov recalled in his book: "As I know, I don't know if it's true, or they lied to Pashka, but the reason for his arrest is the following. In 1940, our industry for the first time released a batch of upgraded DB-ZF aircraft, long-range, forced bombers. Levers decided to send them to the Far East. Allegedly, he was warned about bad weather on the route, but he ordered to fly. If a complete bummer from his own success, still turned his head, it was no wonder. With us this happens quite often: only a person will be knocked out on the top, as he begins to fool. But it is also possible that a scapegoat was simply made from Pashka, and someone higher gave orders, say Tymoshenko himself. And was it possible to foresee the weather on the many thousands of kilometers of the Siberian route? Our fathers - the commanders were masters of all provocations. In any case, the new bombers left the route, but did not arrive at the destination. They got lost and, having developed fuel, got somewhere in the Siberian taiga. I don't know, maybe they slander Pashka, or maybe he completely lost his temper, but they say that when he was offered to report the incident to the Minister of Defense Tymoshenko, in order to organize large-scale search and rescue of crew members, he responded in the sense that, they say ... them, just do not know how to fly. Crews died. This was reported to Stalin, who did not like it when his favorites were more rude than him. According to rumors, Stalin ordered to organize large-scale searches and aircraft, albeit with a significant delay, but were discovered. Some pilots kept diaries in which it was stated that they were still alive for almost a month and died of hunger, without waiting for help. "
In general, Pavel Vasilyevich, due to his youth, made a number of serious miscalculations. He gradually began to lose the sense of reality, comparing all with himself. Of course, among the pilots he was not equal in talent and skill. And Rychagov stopped understanding this, being in a high position. But this was well understood by other people preparing reports to Stalin about conspiracies in the Red Army. And if earlier Pavel Vasilyevich did indeed go to the favorites of Joseph Vissarionovich, then after these failures he lost interest in him.
This and took advantage of Beria, who has long looked out for too young, too capricious, and too talented boss. He was by definition dangerous.
Here, on the hand of Beria, she also played a friendship with Ion Emmanuilovich Yakir, who was shot back in 1937. And although several years have passed, Beria and Stalin himself most likely never forgot about their friendship. After all, Yakir was repressed as a member of the "military conspiracy." And what prevented Rychagov from being in the know or even taking a personal part?
And if so ... Already 24 June 1941, he was arrested. Following the custody concluded and Maria Nesterenko.
It is known for certain that Pavel Vasilyevich was beaten and tortured, trying to beat him out of his confession of treason, and at the same time preparing various kinds of sabotage. But Levers turned out to be a tough nut to crack, and it was not easy to split it. The interrogations continued until autumn. After his two dozen arrested "traitor" (including Nesterenko, Loktinov and Smushkevich) went to Kuibyshev. At the same time, Lavrentiy Pavlovich Beria decided that it was time to finish with them. Therefore, he sent a secret dispatch with a courier, which said: "Stop the investigation, do not betray the court, shoot it immediately!"
The facts of the beatings of those arrested later confirmed the testimony of witness P. Semenov: "... In 1941, when Vlodzimirsky occupied office No. 742, and I was in the waiting room, I witnessed the beating of those who were arrested by Lodzimirsky ... Loktionova, Rychagova and others. The beating was brutal. Those arrested, being beaten with a rubber truncheon, roared, groaned and fainted. "
Vlodzimirsky himself did not deny this: "In my office, physical measures were applied, as I have already shown, to Rychagov, maybe to Loktionov ... They beat the prisoners with a rubber stick ... I remember that once they beat Rychagov very badly, but he did not give any evidence, despite the beating. "
Another witness, A.A. Bolkhovitin, said: "... During interrogations that I conducted, Rychagov did not recognize himself guilty of enemy activity and gave testimony about certain non-party actions. Wlodzimir in every possible way sought from me to obtain evidence from Rychagov with acknowledgment of his anti-Soviet activities, although there was no convincing and verified data incriminating him. At the direction of Wlodzimir in early July, 1941 was confronted between Smushkevich and Rychagov. Prior to this confrontation, Vlodzimirsky sent Zimenkov and his deputy Nikitin, the head of the first department of the investigation department of the NKGB of the USSR, to my office. Nikitin, at the direction of Vlodzimirsky, in order to "prepare" Rychagov for a confrontation, Rychagov was brutally beaten up. I remember that Rychagov immediately declared to Nikitin that he was no longer a pilot, since during this beating he had his ear membrane broken. After that, Smushkevich was brought to my office and the confrontation began. Smushkevich, judging by his appearance, obviously, was repeatedly beaten. During the investigation and confrontation, he gave vague testimony about Rychagov's belonging to the military conspiracy and his espionage activities. Levers denied espionage. "
The arrest of Pavel Vasilyevich, many of his colleagues were not surprised. They believed that Rychagov himself was to blame. He took a high position, but turned out to be completely unprepared for her. So in fact it often happens when a person, having made a dizzying climb, begins to abruptly "lose height". After all, as you know, the higher it took off, the harder it was to fall. And on October 28, Rychagov's 1941, along with other arrested officers, were taken to the village of Barbysh, near Kuybyshev (now Samara).
Dmitry Panov recalled: "The noise of a three-ton motor, instituted to silence the sound of shots and screams of those executed, was the last sound that Pasha heard in his short but stormy life. It would have been better if he did not have his dizzying career and would listen to the dashing pilot Pashka Levers, who turned out to be unbearable for Monomakh's cap, only the roar of aircraft engines. How much benefit could he still bring in air battles ... "
And it's hard to disagree with this, because during the service Levers made more than 3000 landings, of which about 500 - night ones. And managed to fly over 170 000 kilometers. In the war with the Germans, such an experienced and experienced pilot oh seemed to be useful, but
история
does not tolerate the subjunctive mood ...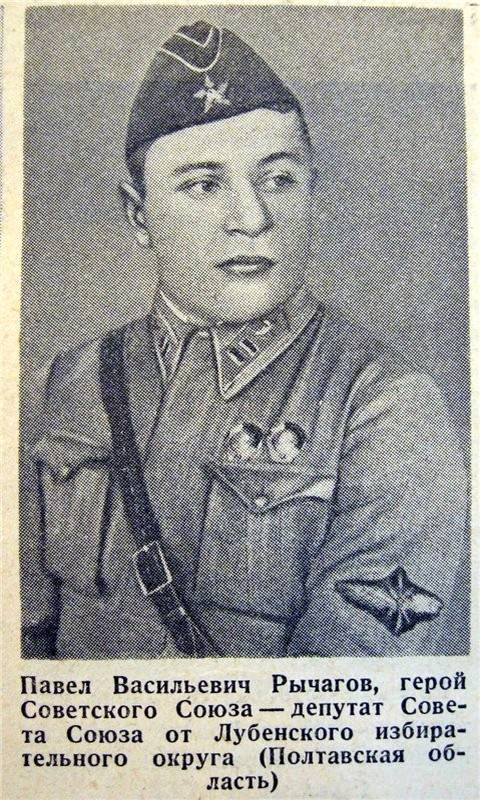 At the same time, Pavel Vasilyevich's wife was also shot. Prior to her arrest, Major Maria Nesterenko held the position of commander of a special-purpose aviation regiment. She was, in fact, accused of only one thing: "being the beloved wife of Rychagov, she could not have been unaware of the traitorous activities of her husband."
Later, during the period of mass rehabilitation of the repressed, the USSR Prosecutor General Roman Andreyevich Rudenko put an end to the Rychagov case: "Despite the lack of objective evidence of Rychagov's guilt in committing serious state crimes, he, among other 25 detainees, was October 28 1941 of the year Beria was shot at the criminal order, and the enemies of the people of Kobulov and Wlodzimir in 1942 in the past year falsified the conclusion about Rychagov's execution, knowingly falsely indicating in him that have an accusation proven. The case of Pavel Vasilyevich Rychagov by the Procuracy of the USSR was discontinued due to the lack of corpus delicti in his actions and he was posthumously rehabilitated. "
Rehabilitated Pavel Vasilyevich 23 July 1954 of the year.