Armenia again shakes from the protests. And, I confess, it is rather difficult to understand what is happening there: who is right, who is guilty, and why once again we have to talk about the possibility of "Armenian Maidan". Moreover, the level of support of the official authorities of Yerevan, judging by the recent elections, is quite high - the Republican Party, under the leadership of Sargsyan, has a one-man majority in parliament, which allows it to form a government, especially not looking at the opinion of political opponents.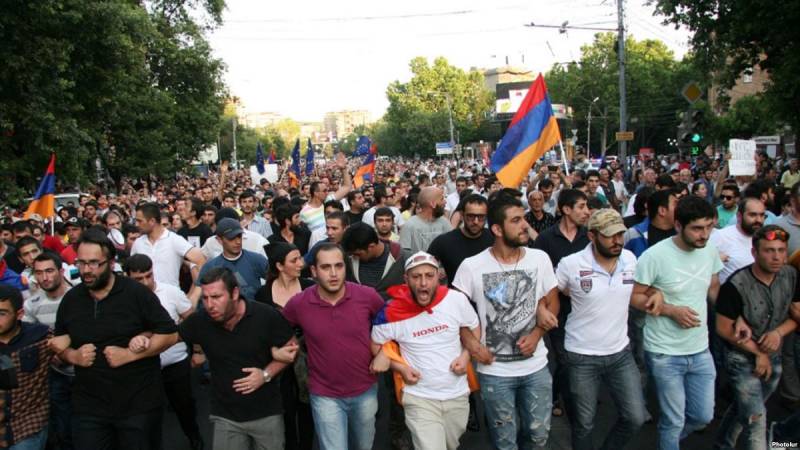 But we can still understand something. Namely - unrest is not advertised, but quite tangible anti-Russian character. They are managed according to a scheme that has already been tested more than once, through dozens of so-called "non-profit organizations," or NPOs, from the largest US embassy in Yerevan in the post-Soviet space, where nearly two and a half thousand diplomats are engaged in peaceful subversive work.
Two and a half! This in itself is incredibly much, and in proportion to the population of Armenia - the figure is simply prohibitive!
For Armenia, we can roughly understand what this means - it's good, there's no need to go far for examples. But what this means for Russia is harder to understand. So, it would be nice to try to figure it out - calmly and without hysteria.
How do you see Armenia from Russia and, accordingly, its political, economic, strategic importance for the Russian Federation? It's pretty simple and unattractive - a small country in the wild Caucasian wilderness, sandwiched between other Caucasian states and their Asia Minor neighbors, requiring economic support, landlocked, not part of any significant transit routes ... In general, solid, sorry, hemorrhoids, not ally. Do not even understand what the "stupid" Americans found there ...
If we accept this point of view, then it becomes clear where in the Russian media and social networks there are so many harsh statements in the spirit of "Yes, let them do it already, the loss is not great!". However, there are a couple of nuances that should change our understanding of this small country.
Two geopolitical factors make Armenia a rather tasty target for geopolitical aspirations of the largest geopolitical players. Both of them are taken into account by "stupid amerikosy", who have an excellent geopolitical school and operate within the framework of approximately fifty years of planning (for example, the "Anaconda" plan, for example). In Russia, where there is simply no adequate geopolitical school, and homegrown "geopolitics" are still chewing on the doctrines of capturing the Black Sea straits two hundred years ago, few have learned to see "this is far from Moscow!", Therefore the general background of statements is not surprising at all .
So, the first factor. Armenia is located quite close to the Middle East. From Yerevan to Raqqa, approximately 600 tons. Damascus is about a thousand. This is about an hour of flight time for shock
aviation
if you do not take afterburning speed maxima, which are usually not used for flights over sufficiently long ranges, the fuel consumption is too high.
In principle, this is quite a comfortable distance for the actions of our aviation in Syria in the event of any force majeure. Yes, if you go around the territory of Turkey from the east, you'll get a little more, but it's still within a half thousand kilometers, which is an acceptable radius for several types of front-line aviation, including almost the entire family of fighters, attack aircraft and front-line bombers of Sukhoi Design Bureau. ".
Not far from Armenia and to the Persian Gulf. Kuwait is about a thousand kilometers away. To Qatar and the capital of Saudi Arabia, Riyadh, about one and a half thousand. And not in the least challenging the fact that Russia is a peaceful state, unconditionally respecting the norms of international law, the opportunity to deliver a good bombing strike on the largest oil storeroom of the planet will never be a trump card in our diplomatic deck.
Of course, critics of such an assessment will find weighty arguments. "Caliber", for example, flies on. And the air base in Mozdok is not much further - some 300-400 kilometers, which is quite a bit for aviation. And this is a weighty argument, but only partly. Not wanting to get into the jungle of purely technical analysis, we simply note that cruise missiles do not always cope with the tasks assigned to them, and the recent American adventure in Syria is a good example of this. And sometimes their work must be preceded by the work of aviation, destroying air defense objects by less long-range, but more specialized systems.
The distance is also not all clear. When to the enemy is five hundred kilometers, three hundred more and the truth is of no great importance. But when he is already at the limit of the radius of action of aviation, three hundred versts at both ends become very noticeable. And for escort fighters, this can be quite a critical difference. And therefore it is better for us to have both Gyumri and Mozdok as the starting point of our peace-loving "diplomacy for emergency cases".
There is also a downside: if the Americans become stronger in Armenia, their aircraft can already use the airspace of Transcaucasia to enter the Caspian Sea and, from there, for a hypothetical attack on Iran, whose northern coast is traditionally less protected than the border with Iraq and Iran coast of the Persian Gulf. Our own southern frontiers will be vulnerable too.
And here we smoothly move on to the second factor. Less obvious, but much more critical for Russia itself.
One of the key geopolitical tasks facing the current "hegemon" is the invasion of Central Asia and military consolidation there. From there, the Americans will finally be able to get closer to the "soft underbelly of Russia" (and what's there to close up - just put a knife to our belly), and at the same time China's bare back, and in the area adjacent to its Xinjiang Uygur Autonomous District, where separatist sentiments are still very strong. And this would be the actual end of the brilliant geopolitical game played by the Americans in the second half of the twentieth century.
But the Americans are separated from the finals by such a small thing as a disgusting (from their point of view) invasion logistics. Central Asia is surrounded by Russia, China, Iran and the Caspian Sea - not the best environment for such purposes. And at the moment, military penetration is possible only through the Pakistan-Afghan and Transcaucasian corridors. Both of them are very doubtful - the southern corridor, strictly speaking, can only be used by transport aviation, and the western one, through the Transcaucasus, is very narrow and uncomfortable.
Now imagine that in this narrow corridor the Russian aircraft carrier is located Armenia. And it immediately becomes clear why the "stupid" Americans flooded Yerevan with a record number of their diplomats, right?
Again, let us leave for another time the motivation of the geopolitical importance of Central Asia for the United States. We agree only that in this perspective, the actions of the Americans are becoming more understandable. Yes, they are simply preparing their way to Uzbekistan and Kazakhstan - though not very wide, not the safest, but still suitable for protection and protected by nature from land invasion from the North. Under current conditions, they will not receive more, and it seems that they are ready to be content with this for the time being.
If we use chess analogies, Armenia is just a pawn. But this pawn covers our position from the invasion of heavy pieces in an extremely important direction. Will our position crumble after its delivery? The question is not rhetorical and very alarming.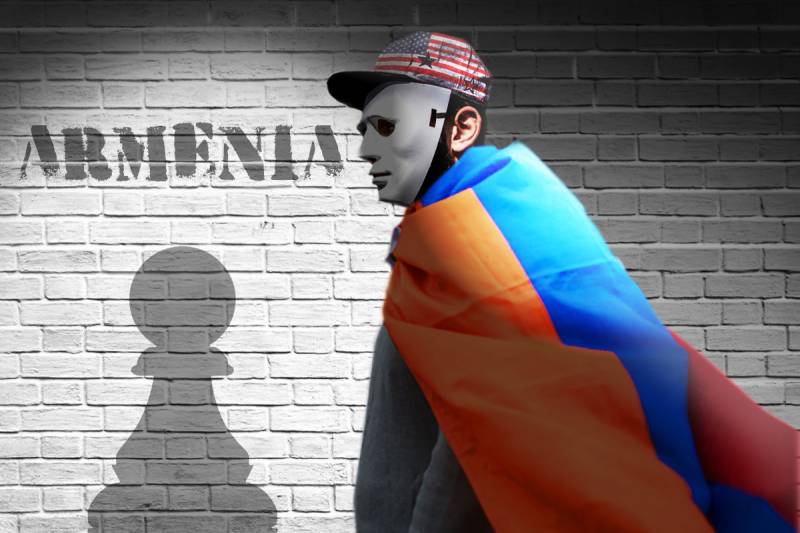 Well, the last thing I would like to mention. We have quite strong tendencies to oppose our relations with Armenia and the state of Russian-Azerbaijani relations. Here, they say, we have not put on that, and if we send this Armenia to hell, we will get a much richer Azerbaijan as allies.
Alas, this is also a very short-sighted look at the problem. Azerbaijan is interested in the shortest ways to export its hydrocarbons. And they go away from Russia. Azerbaijan sees Turkey as an older and more successful brother, whose ties are historically very strong. Azerbaijan, it must be admitted, has achieved too much on its own to rush recklessly into the arms of its northern neighbor.
And we will never make a true ally out of it.
And to lose Armenia under sweet dreams of Azerbaijani oil is we easily.
But will we really get better?
But on this point there are big doubts ...