April 30 in Ukraine ends the so-called "anti-terrorist operation." This was probably the first time
stories
when the "antiterrorist" operation was carried out without official recognition by the state of its opponents as "terrorists". Since 1 May, the ATO is being transformed into "OOS" - the operation of the combined forces. From the statement of the press service of the Armed Forces of Ukraine:
The plan is approved, there is a decision of the president, which will become a reference point. Of course, preparations are under way at all levels to accomplish tasks ... The strategic leadership of the future operation will be carried out by the General Staff.
Against this background, Foreign Minister Pavel Klimkin said that the Russian position on the possible introduction of peacekeepers in the Donbass is "unacceptable." Recall that the Russian position is that if peacekeepers were introduced to the Donbass, they would be engaged in ensuring the security of the OSCE SMM along the line of contact between the parties, that is, directly at the scene of the conflict. This is fully consistent with the Minsk agreements. Kiev states that peacekeepers should be dispersed throughout the entire uncontrolled territory, including the border of the LDNR and the Russian Federation. At the same time, Klimkin calls the Russian proposal a "Trojan horse."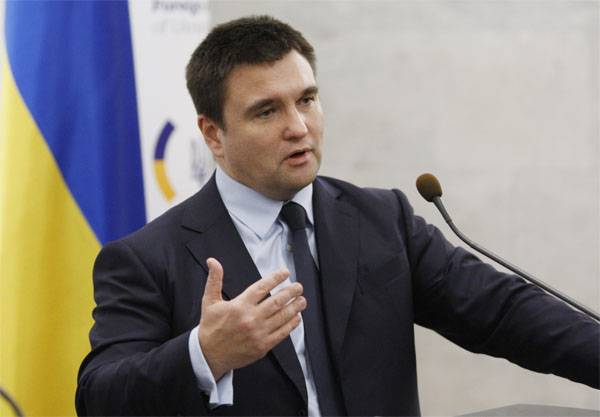 Ukrainian Foreign Minister:
We must be guided by logic, when basic security is first achieved, then control over the occupied territories, the police component, and only then - preparation for the elections. Russia is preparing a Trojan horse for Ukraine with its proposal. This proposal is not supported by the G7 countries.
The fact that Western Trojan horses are "walking" in Ukraine for a long time, destroying the very statehood of this country since the days of the Maidan coup, is not noticed, of course, by Mr. Klimkin. But why notice if Klimkin himself sat in his current chair under the clatter of the hoofs of the Western Trojan herds.