In Peru, factory testing of the amphibious assault helicopter AMR 156 Pisco, built at the shipyard SIMA, began
bmpd
.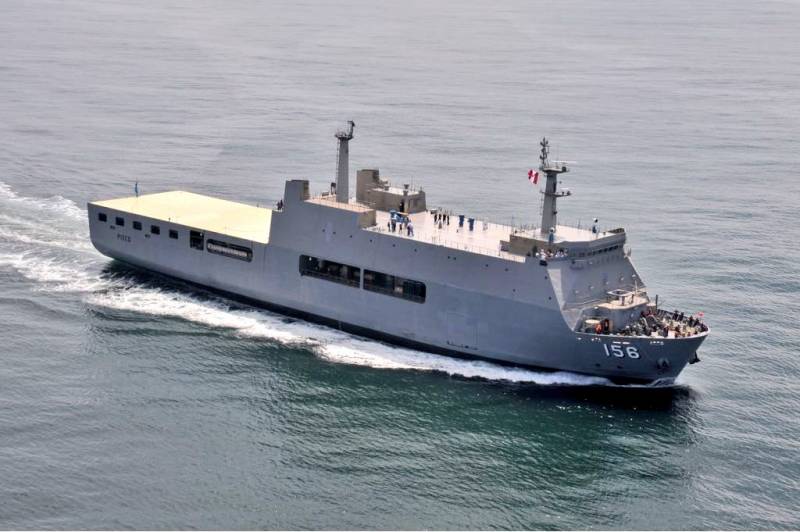 It is reported that the construction of the ship was carried out according to the project and with the assistance of the South Korean corporation Dae Sun Shipbuilding & Engineering Co., Ltd.
The contract for the construction of two ships was signed in 2013 year. Initially it was assumed that both of them would be transferred to the Navy in 2015.
Construction of the first helicopter carrier cost about $ 60 million began only in the second half of 2014. The second ship was laid at the end of last year.
"The landing helicopter docks are relatively small - standard displacement of 7300 tons, and total displacement of 11390 tons. The ship is 122 meters long, 22 meters wide and has a draft of 4,9 meters. The power plant consists of two MAN B&W 9L28 / 32A diesel engines with 3000 hp each, providing a speed of up to 16,5 knots. The cruising range is up to 14 thousand miles, "the article says.
The ship has a small dock chamber, which houses two 23-meter landing craft type LCU, and on the cargo deck - up to 24 units of armored vehicles of the LAV II armored personnel carrier class. The flight deck has two runways for Sikorsky UH-3 / SH-3D class helicopters. 157 manned crews and up to 400 marines are stationed on the ship.