The bust of the first president of Russia Boris Yeltsin, the work of Zurab Tsereteli, was installed in Moscow at the "Alley of the rulers" in the Russian Military History Society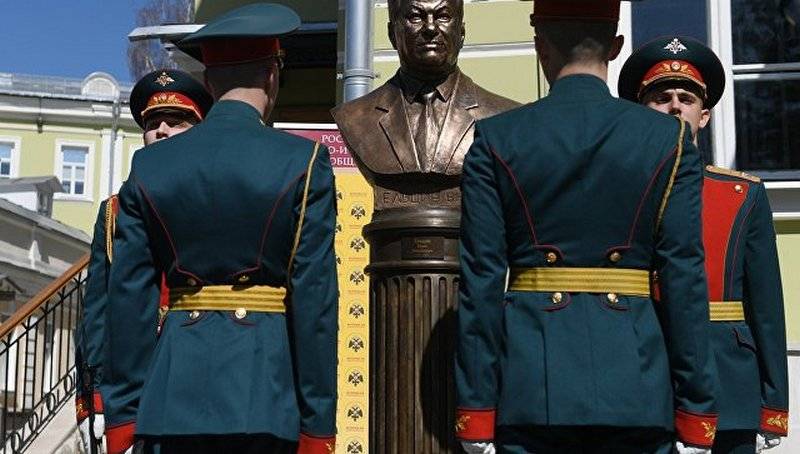 For the first time in our
stories
we can see successively the rulers of Russia, the Russian Empire, the USSR and Russia, we can see how they looked, find out when they lived. Our history is one and indivisible, we do not tear out the pages from it and do not cross out the names
- the message cites the words of the Minister of Culture of the Russian Federation, the chairman of the RVIO Vladimir Medinsky.
"Alley of the rulers" was created by the Russian military-historical society in 2017 year in the park, which was refined during the restoration of the building, which now houses the "Museum of military uniforms" RVIO. Earlier, the busts of the 42 supreme leaders of the country were installed here: from the grand dukes of the period of the formation of the Old Russian state to the leaders of the Provisional Government during the revolution, the leaders of the Soviet Union. In particular, the busts of Vladimir Lenin, Joseph Stalin, Nikita Khrushchev, Leonid Brezhnev, Mikhail Gorbachev are represented in the alley. Also in the granite sealed genealogical tree of the kind of Rurik and branches of the Romanov dynasty. The whole alley is created by Tsereteli.
Meanwhile, the author of the busts of the Russian leaders on the "Alley of Rulers", the sculptor Tsereteli, promised to think about installing the bust of Dmitry Medvedev, who led the country from 2008 to 2012 a year.