Not the first day I caught myself thinking that I had already watched all this. Only not in the far south, but in the west. And very close.
That's right, in Ukraine.
If you read the whole op, which Armenians raised in all social networks, you can really get the impression that almost the whole of Armenia stood up against Sargsyan.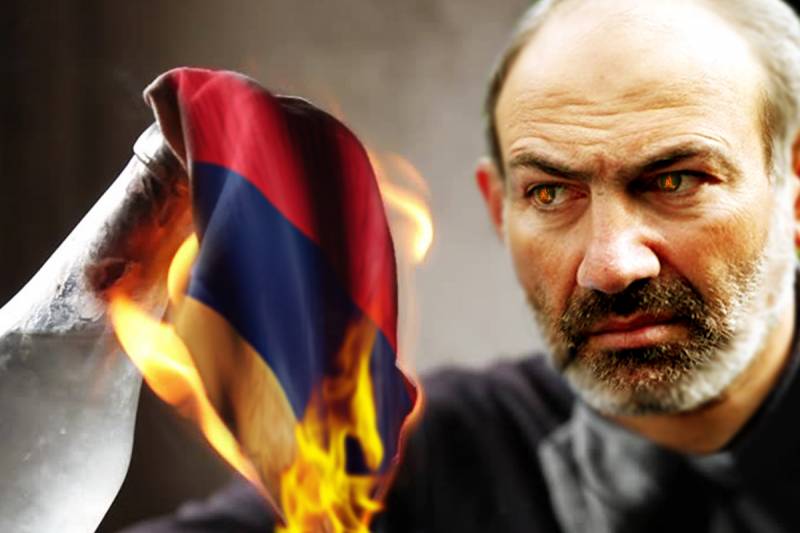 But in fact, the main majority of the screaming are fighting not only from the sofas, but also these sofas are geographically located in Russia. Surprisingly, the anti-government Armenian diaspora is based here!
But wherever there are those who fervently post, repost, and so on (I note right away that it is burning on the Internet incomparably with Ukraine, here the Armenians will give anyone a head start, yes), the déjà vu is caught easily and naturally.
All this has already happened.
And, you know, here is a completely different attitude. And an understanding of what started in Armenia. Fortunately, the training manual is still the same, and Sargsyan with Yanukovych ... well, it's just harder to find three differences than twenty matches.
Cookies, dear, cookies!
My understanding began with the announcement of the meeting between Serzh Sargsyan and Nikol Pashinyan in Yerevan. The meeting seems to be initiated by the authorities. A few minutes before the meeting, Pashinyan said on the air that the talks would be held on one agenda: the resignation of Serzh Sargsyan, the departure from the power of the Republican Party.
Further Pashinyan says that the actions will be continued in order to force the authorities to accept the conditions of the people. "We have already won, it remains to fix this victory."
Again, a single option for a "peaceful" settlement. Power Sargsyan must surrender, and surrender only Pashinyan. All the rest is not a ride, for the "people" so decided.
Why only this people stinks of gosdepovskimi cookies, and this people post from anywhere, but not from Yerevan - that's the question ...
And so - Kiev Kiev, neither give nor take. All the same. But, unlike Yanukovich Sargsyan, it seems to be harder.
Everything goes according to plan. According to a well-developed plan. Mass protests and seemingly a dialogue with the authorities, but in high, I would say, commanding tones.
For some colleagues, Pashinyan was characterized by not very beautiful words like "protégé", "outcast", "puppet". Not Russia, I will note. USA.
I agree.
Having rummaged at leisure in what Pashinyan's throat is fighting over, he thought. It is interesting to him, to be honest.
Armenia joined the Eurasian Economic Union not voluntarily, but forcedly. Bribed everyone in bulk and threatened with economic sanctions if the republic did not enter.
The relations between Russia and Armenia are the relations of the speaker and the listener.
Armenia lost in the issues of military balance with Azerbaijan almost completely, and all this thanks to the intervention of the strategic partner of the Russian Federation.
Is that enough? As for me, completely.
I will simply disregard the first two points, simply because there is nothing to comment on. If the potential of Armenia was at least comparable with the possibilities of Belarus, Kazakhstan, Ukraine (I translate, there would be something to lose besides peaches), one could say something.
And what about the military confrontation with Azerbaijan ...
We in our pages very well at one time discussed the question of who, what, and how much.
weapons
who buys from It is clear that the comparison was not in favor of Armenia, so who was to blame? Russia again? What did not contain another armed forces?
We do not observe improvements in the solvency of the state, so it's clear where Pashinyan is going to restore parity with Azerbaijan. It is quite clear.
In this regard, all these credit relations in armaments between Russia and Armenia can definitely go sideways. Passed already. We still go through.
Another issue is that the main argument of Pashinyan is Nagorno-Karabakh. So, if it does not calm down, really inflame.
Such, understand, region. Armenia, Azerbaijan, Iran, Turkey, Iraq, Syria ... Here somewhere, but simply obliged to burn. Syria fades out gradually, it is necessary to splash more gasoline into the embers. Karabakh is a luxury theme. Even nothing is needed to splash; let one rabid person into power, and the Armenians and Azerbaijanis cling to each other's throats. As it was already not once.
But Pashinyan will start with what? That's right, "get out gang!" And the occupiers, too. And without the support of Russia and without our base, Azerbaijan will very quickly resolve the Karabakh issue. I am sure that it is somewhat different from what Pashinyan sees in his pink dreams.
It is foolish to think that the place of Russia will immediately take the States. Just look at Ukraine. But Azerbaijan, and even Turkey (relatives by the blood of the Turkic - this is not a joke), and with love the Turks for the Armenians ...
Here, forgive me, it's not worth talking about Karabakh in particular, but about Armenia in general.
And do not talk about the formidable army of the Republic of Armenia. Of course, there is an army, and for some time it will also suffice. How was enough Ukrainian APU. That's just to confront the Armenian armed forces will not be fighters but fruit growers. More serious guys.
On the whole, such an alignment is quite an option, and I'm only interested from the other side, will we have time to take our people out of Armenia and will we not get under the batch? The rest, as well as the result, are aspects.
It is clear that the Pashinyan map will be a bit, and along with it Armenia. What a trump card, Russian or Turkish, is not important.
Naturally, it would be best if their brakes. So there will be less blood.
Agree, if you give free rein to the Pashinyan-like in "restoring order", the result is already known. Moldova, Georgia, Ukraine ... Yes, no problem, in fact. If it were not for one "but." Karabakh
Well, plus one more thing.
Unlike Ukraine, a huge influx of volunteers from Russia is not expected. I mean Armenian volunteers. Today's businessmen and other residents, and even citizens of Russia. Not those conditions as it were.
And the cry "Putin, come, put things in order!" Will immediately begin. Yes, even what ... Everyone will remember. And the CSTO, and all the other scary words and letters.
One can only hope that the Armenian authorities, who have learned from their own and other people's bitter experience, will not make political advances with the "oppositionists" striving for power.
Yes, the organizers of the illegal rally Nikol Pashinyan, Ararat Mirzoyan and Sadun Mikayelyan were detained on suspicion of deliberately organizing and holding a rally in violation of the procedure established by law. Let's see what will happen next.
Actually, it is not bad to pack up in the SIZO, if this allows you to keep the situation in check.
Of course, I don't have the slightest desire to rub my hands because of stupidity or thirst for power, Armenia and Azerbaijan cling to each other's throats. Or that suddenly, Armenia will unfold in the Ukrainian style. In any case, it is their own business.
Victims do not want. I do not want grief. Deaths do not want.
Dear, there, in Armenia ... This airplane from Washington, he will not only bring cookies. There's also money with instructions will be for these, from the "Christmas Tree". Expand.
Of course, if you need complete independence from Russia, this is not a question. Only look to Ukraine, and everything will be fine. Suddenly it will really happen that Armenia and everything that Pashinyan attributes to Russia did not give up to us? And the Ukrainian script, like this, easily?
There will be laughter through tears ...