In the Indian press, citing senior officials in the Department of Defense, it speaks of the claims that the Indian Ministry presented to the United States. The reason for bringing claims to Washington from New Delhi was that the United States made India understand unambiguously the following: if you cooperate in the military-technical sphere with Russia and buy weapons from Russia, anti-Indian measures will be taken in response.
We are talking about the requirements of the United States to comply with anti-Russian sanctions - according to the so-called CAATSA Act. To put it simply, its purpose is to extend sanctions to those who enter into trade relations with Russia in the arms market and in the energy sector. India has such a relationship for many years, and today declares its interest in acquiring the C-400 air defense system.
The Indian National Security Council adopted a document stating that if the United States is talking about partnership with India, then this partnership cannot go against national security.
Former Indian Ambassador to the Russian Federation Pundi S. Raghavan:
The CAATSA act is focused on all countries that have military and energy ties with Russia. And while the US may argue that they have a strategic motive, they cannot deny that they are pursuing their own commercial goals in the first place. The United States actually says: do not trade with them, trade with us, come close to us.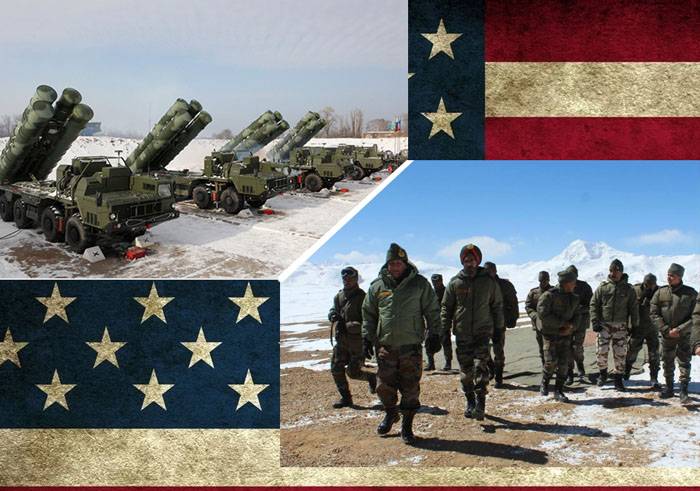 It is reported that at the level of the US Secretary of Foreign Affairs, the official position was passed that American sanctions could not and should not affect bilateral relations between India and Russia, including relations in the military-technical sphere.
Pundi Raghavan:
The United States cannot offer India anything to match the C-400 missile system. But the processes are much more complicated. The United States is ready to dispute or even try to discourage a deal, with the help of such tools as the State Department, Congress, the Pentagon, and others. To try to push the interests of their private companies.
It should be recalled that the day before there was information about India's withdrawal from the FGFA joint project with Russia - the fifth generation fighter. In New Delhi, said that the proposed Russian option can not be attributed to the fifth generation. A number of experts considered that this decision of India could be connected with the American pressure in the CAATSA format.