The soldiers of the Ukrainian army over the past day 40 once violated the cease-fire, reports
RIA News
.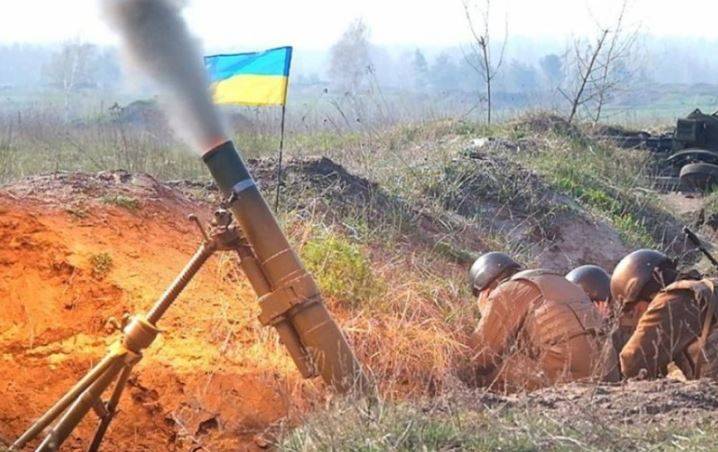 The representative office of the Donetsk People's Republic in the STCC informs: over the past 24 hours, the total number of violations by the Supreme Court of Ukraine has been 36 times,
told the military.
Ukrainian security forces fired more than 190 mines across the territory of the DPR, grenade launchers and others were also used during shelling
weapon
.
"Gorlovka direction: mortars 120 millimeters - 28 min; Mortar 82 millimeter - 15 min; Donetsk direction: mortars 120 millimeters - 26 min; millimeters 82 millimeter - 44 mines; Mariupol direction: mortars 120 millimeters - 17 min; 82 mm mortars - 63 mines ... The total number of ammunition used by the VSU is 959 units, "the Joint Center said in a statement.
In Donetsk, Dokuchaevsk and Kominternovo 4 were damaged at home, in Dokuchaevsk a substation was damaged.
In the morning, the fire in the direction of Novotroitsk - Dokuchaevsk continued with the use of mortars; a civilian was wounded.
In turn, the representative of the People's Republic of the Luhansk Republic reported four shelling.
Over the past day, the Ukrainian security forces four times violated the cease-fire by using mortars of 120 and 82 millimeters, grenade launchers and small arms,
he said.
According to the representative of the military department of the LC, "areas near settlements Zhelobok, Kalinovo-Borschevatoye and Pervomaisk were subjected to shelling, around 110 shells were fired throughout the republic".
In addition, in the village of Vrubovsky (LNR), a local resident exploded on an explosive device.
"In the village of Vrubovsky, Lutuginsky district, a man 1960 of birth was killed as a result of an explosion at an unidentified explosive," the release of the Ministry of Emergency Situations of the Republic says.