The Syrian army has come close to the position of the terrorists of the "Islamic State" (* prohibited in Russia) in the Yarmuk area - south of Damascus. At night, the SAA launched a new phase of the attack on militant positions, having carried out several air strikes with the support of the Russian Aerospace Forces.
The offensive is accompanied by intense artillery fire against terrorists, for whom the territory in the Yarmuk region remains in fact the last relatively fortified area, not counting positions in the immediate vicinity of the border with Israel.
The strikes are currently inflicted on the areas of Tadamun and Hajar al-Aswad. The Syrian army is conducting an offensive from both the eastern and the western suburbs of Damascus. The command notes that several advanced terrorist positions have already been crushed, the militants have either been destroyed or are trying to retreat in a southerly direction.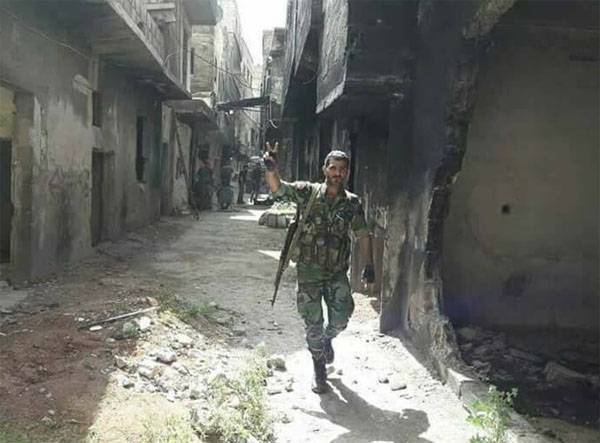 If the CAA attack succeeds, then all the territories around the Syrian capital will be finally freed from the terrorist occupation by those supported from abroad.
The operation in Yarmuk is complicated by the fact that militants continue to detain Palestinian refugees in the area as hostages. Recall that it was for Palestinian refugees long before the outbreak of the war in Syria that the camp was created in Yarmuk.
Against this background, it was reported from Syria that a sniper was killed by a correspondent of the Chechen television and radio company "Grozny", Ihab Balan. He was a citizen of Syria. On the death of a journalist writes Ramzan Kadyrov:
Sad news came from Damascus. Before Friday's Ruzboy (with a prayer - "VO") in Damascus, a freelance correspondent of ChGTRK "Grozny" in the UAR, a Syrian citizen Ihab Balan, was killed with an aimed shot. May Allah have mercy on him. We grieve with family, relatives and friends. I also express my condolences to the TV and radio channel "Grozny" and the whole creative team. President of ROF, my dear MAMA Aymani Nessievna ordered to provide help and support to the Ihab Balan family. The terrorists of the Iblis state once again showed their true face by killing a young man of the most peaceful profession, who worked closely with the Hero of Russia Akhmat-Khadzhi Kadyrov ROF