Last Friday and Saturday night was tense. Our peace of mind at the end of labor week violated the trumpet trump, who brought the planet ... you know what it was. More than a hundred smart and beautiful were sent to defeat stupid and scary Syrian goals.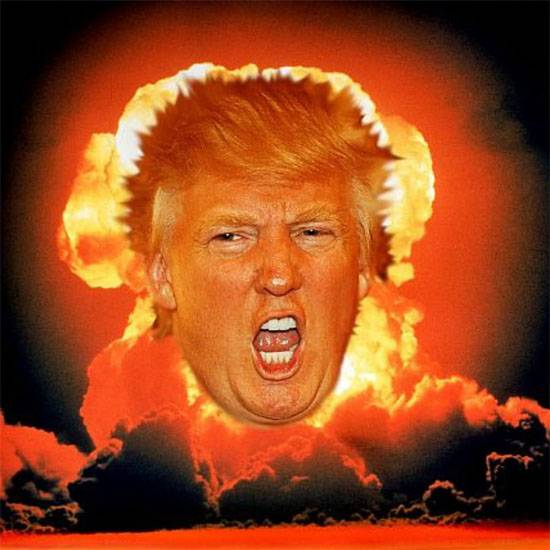 Beat, as you know, straight through the chemical warehouses
weapons
- hit after hit, hit after hit - tons of chlorine, mustard, phosgene, sarin and Orange agent should have already swirled in the night sky of Damascus, and "White helmets" in conditions of withering rocket attacks, recharging video cameras batteries by friction against each other and preparing the hoses for mass irrigation, had to shoot it all on video. They are independent.
Bad luck
There were no White Helmets. Where are these fearless guys who, with CNN journalists, can, by touching the tip of the tongue to a piece of fabric, easily determine the type, variety, blend and country of origin of any chemical poisonous substance?
Bad luck 2.
Where are the clubs of poisonous smoke in that very Duma? Apparently, the substance automatically acquires all the signs of a BOV only when the bloodthirsty despot Asad or at least the captain of his guard passes by. In other cases, chemical weapons, of course, lose their power. Especially before the American strikes.
Bad luck 3.
British submarine entangled in seaweed and octopus tentacles and could not carry out a volley. Laminaria and a platoon of fighting octopuses received state awards from Neptune / Poseidon.
Bad luck 4.
The French frigate discovered the automation of the wrong system on board and, being upset (with whom it does not happen), fired with a smaller number of missiles - precisely - along the trajectories of the interception of Syrian air defense.
Bad luck 5.
At least two smart and beautiful in kind - with serial numbers and other attributes - were sent to the Syrian Timurovs where necessary. Where necessary, in the screwdriver disassembly mode, they have already begun to find out how many brains the clever one has, and whether it has used beautiful plastic surgery.
Bad luck 6.
The ubiquitous Yevgeny Poddubny found the same boy who was put under cold water and did not understand why these talkative people did not pour water on themselves, because half of them were, of course, poisoned with chloro-yprito-phosgene-sarin cotton-gauze dressings the same.
Bad luck 7.
Prove-argued Trump with his mighty (reach out, stretch your shoulder) punches that are in no way connected with the Russians, and a week later, that is, today, received a claim from the Democratic Party on his election headquarters for having contacted toxic Russia and prevented to celebrate the victory with an obvious, but slightly stumbled, favorite in the person of Hillary. By the way, Russia, too, was sued.
Trump, don't forget - Zhirinovsky drank champagne for you - give us at least this Friday-Saturday night to sleep ...
Well, for Trump!