The lengthy Indian epic with repeated contests for a new automatic rifle to replace the "national" 5,56-mm INSAS seems to be coming to an unexpected finale, writes
bmpd
with reference to Jane's Defense Weekly.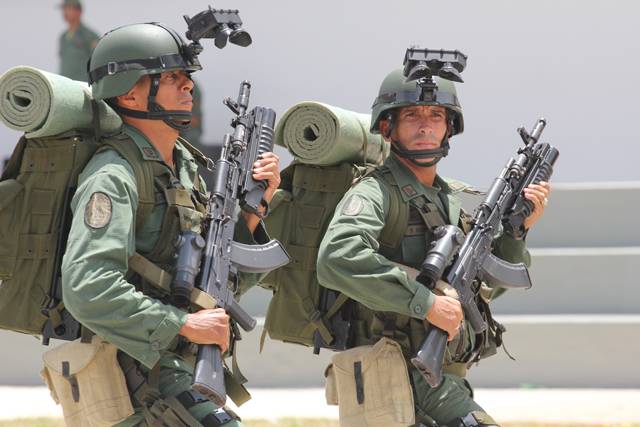 Venezuelan Marine Corps Soldiers with AK-103 machine guns during a rehearsal of a military parade in Caracas
.
It is reported that the Ministry of Defense of India "now intends to purchase a license for the production of the Russian modernized AK-103 submachine gun under the Soviet cartridge 7,62 x 39 mm, out of competitive bidding procedures."
The production of the AK-103 should cover the requirements of the Indian army for the purchase of 768 496 automatic rifles. "Another 50 of thousands of rifles make up the needs of the Indian Air Force and Navy. Presumably, the Indian Ministry of Defense will resort to the direct import of 150 thousands of machines to cover the most urgent needs of the front-line parts of the first line, and will manufacture the rest under license, "the newspaper writes.
According to the magazine, this month the delegation of the Ministry of Defense of India and the Ordnance Factory Board (OFB), which will finalize an agreement on this type, will go to Izhevsk.
weapons
.
As sources told the magazine, the proposal to purchase AK-103 assault rifles, approved by the army, "was the result of detailed negotiations between senior Russian officials and Indian Defense Minister Nirmala Sitharaman during her trip to Moscow in early April." The deal is part of the "Make in India" government initiative.
As for the "national" automatic rifle INSAS (developed on the basis of a Kalashnikov assault rifle), which entered service with the Indian army in the middle of the 90, as early as the year of 2010 it was recognized as "operational inadequate".