One of the units of the 4th
tank
the SAR Armed Forces's division, which was nicknamed the "Tank Special Forces," received a rocket launcher - an analogue of the Russian TOS -1A,
Rossiyskaya Gazeta
. That is how military experts regard the new development.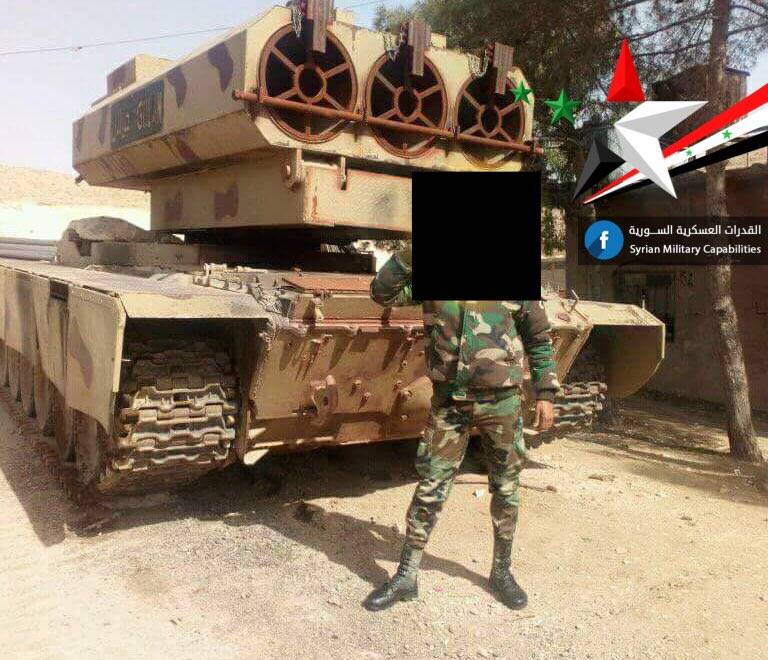 Earlier, military experts, assessing the Syrian combat vehicles with rocket weapons, suggested that the mini-TOS on the BMP chassis would be followed by a tank-based version. So it happened.
The installation presented in the photo was named Golan-1000 and is based on the T-72. The caliber of the missiles used is 500 mm, their weight is about 500 kg.
"A heavy jet launcher on a tank chassis has become a logical development of the line of improvised Golan jet systems, which are produced in small quantities by the repair shops of the 4 Panzer Division of the Syrian Army. Among them were already relatively small Golan 65 and Golan 250 systems on the chassis of pickups, as well as heavier Golan 300 and Golan 400 truck-based vehicles, "said military expert Yuri Lyamin.
According to him, the range of such systems is extremely small and is usually only up to 2-3 km.
"For the 360-mm Golan-300, the maximum range is generally just 1,5 km. However, the powerful warhead of such improvised rockets makes them formidable
weapons
in urban battles, leaving the enemy no chance to survive, "the expert added.