Small rocket ship project 21631 "Vyshny Volochek" will be transferred to the Black Sea
the fleet
April 30. Information about this is available in the annual financial statements of Zelenodolsk Shipyard, published on the disclosure server, reports TASS.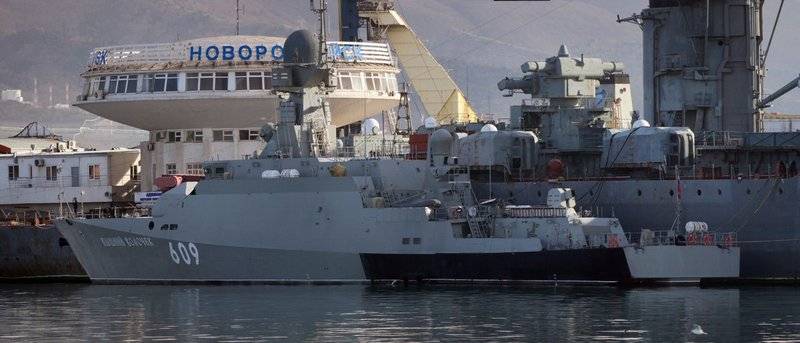 Now the ship "Vyshny Volochek", according to the company, is on the external transfer base in Novorossiysk. As previously reported, the ship was scheduled to pass to the fleet in 2017, but its transfer was delayed by the refinement of foreign power plants CHD622V20.
"Zelenodolsk Plant named after A. M. Gorky" together with LLC "Marine Propulsion Systems", JSC "Zelenodolsk PKB" conducted a revision of the diesel CHD622V20 on the interregional contact system and the cooling system of diesel engines CHD 622V20
- explained in the documentation of the plant.
In total, within the framework of the state defense order, the plant builds the 22 ship, vessel and boat.
"Vyshny Volochek" is the sixth small rocket ship of the 21631 project "Buyan-M" in the account, it was laid down on 29 August 2013 of the year and launched in 2016 year. From the 21631 of the year for the Russian Navy, small rocket ships of the 2010 project are built; they are multipurpose ships of the river-sea class equipped with modern artillery, rocket, anti-sabotage, anti-aircraft and radio-technical weapons. The purpose of the ships of this project is the protection and defense of the economic zone of the state.
Currently, five ships of this project - the head "Grad Sviyazhsk" and serial "Uglich", "Velikiy Ustyug", "Zelen Dol" and "Serpukhov" - are already serving in the Russian Navy. To date, five more ships of the project bearing the names Orekhovo-Zuyevo, Ingushetia, Grayvoron, Grad and Naro-Fominsk are being built on the stocks of the Zelenodolsk plant.