For the Russian Navy, a container complex system is being developed, which will include an autonomous, unmanned underwater vehicle (AUV) and its control facilities, according to
News
.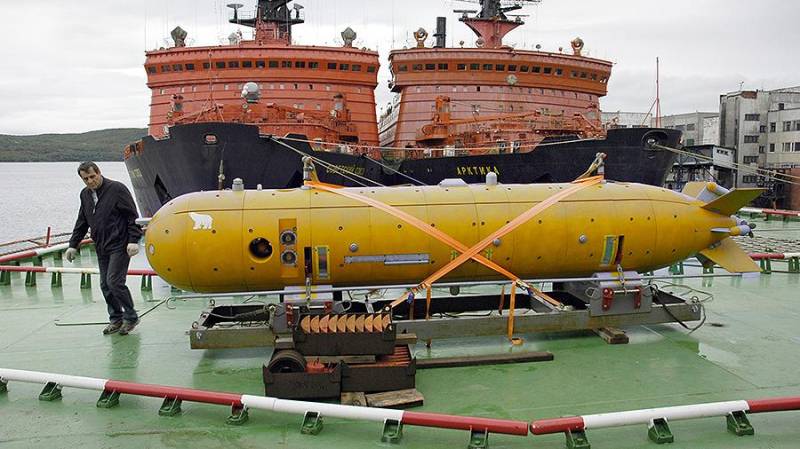 The system is designed to be placed on warships and auxiliary ships of the Navy.
According to the newspaper, the basis of the complex will be the ANPA of the "Harpsichord" family, developed by the Rubin Central Design Bureau together with the Institute of Marine Technology Problems of the Far Eastern Branch of the Russian Academy of Sciences.
"The container with the" Harpsichord "can be placed directly on the deck of the ship - for example, an icebreaker or a rescue ship. Upon arrival in the operational area, a regular ship crane will lower the drone into the water, and he will start work, "writes the publication with reference to the military department.
Externally, the "Harpsichord-1Р" resembles a torpedo with a length of about 6-meters and a diameter of just under one meter. Weight - about two and a half tons. The range is up to 300 km, the battery life is 120 hours, the working depth is up to 6 thousand meters. It is equipped with side-scan sonar, electromagnetic finder, digital video system, acoustic profilograph for searching objects at the bottom and other equipment.
Unmanned underwater vessels can be used for reconnaissance, protection, clearance of fairways, port protection. They also find it easier to cope with the task of detecting enemy submarines or underwater vehicles. Most likely, at first, the sea drones will be primarily engaged in reconnaissance and demining. They can also be useful for servicing the network of underwater stations, which is being created now in the Arctic,
Vadim Kozyulin, director of the PIR Center project on new technologies and international security, told the newspaper.