UAR authorities have delivered an ultimatum to terrorists south of Damascus. The militants opened fire on demonstrations of civilians in the north of Idlib. Iraqi air force attacked the Islamists in Syria. Reports about it
FAN
with reference to Syrian sources.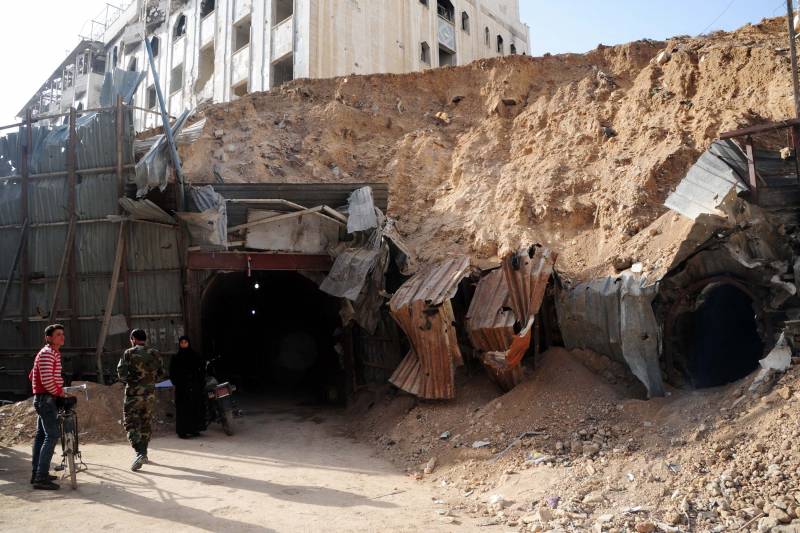 Last day, a convoy of 20 buses, intended for the removal of militants in the framework of the peace agreement between the CAA and the leaders of the anti-government group "Jaish Al-Islam", arrived in the village of Dumeir (Damascus province). 1500 militants and 5000 family members left for Aleppo Province. Before the evacuation, all the radicals gave their
weapon
and ammunition for the Syrian army. During the sweep of the Duma, the military found a network of tunnels, as well as the At-Tuba underground prison, which previously contained thousands of civilians and captured soldiers.
The terrorists of the "Islamic state" (IG, grouping is prohibited in the Russian Federation), based south of the capital, received an ultimatum from the Syrian government. In the event that the militants do not agree to accept the terms of the truce in the next 24 hours, the CAA and its allies will launch a full-scale offensive in the area. By evening, there were reports that the igilovtsy had made a deal with the authorities, but this information was never confirmed.
In the province of Aleppo, the SAR forces delivered a pinpoint attack on the drone at the headquarters of one of the field commanders of the group, the Allied Dzhebkhat al-Nusra (banned in the Russian Federation). He and his two companions were eliminated.
In the afternoon, the radicals of the terrorist alliance, led by an-Nusroy, opened fire on civilians who took part in a rally in the city of Sarmada in the northern part of Idlib. As a result, at least five civilians were injured. The militants also sent additional detachments to the town to disperse the demonstration. Towards evening, an explosion occurred in the city of Idlib, which killed at least 13 civilians. According to preliminary data, it was organized by one of the opposing "en-Nusra" groups.
South of the administrative center of the province of Hama after the conclusion of a temporary truce, clashes between the Syrian army and the terrorist coalition stopped. Previously, the Islamists lost at least five localities. Meanwhile, north of Hama, government forces continued to fire on the fortifications of the radicals. The artillery battalions fired at jihadist objects in the vicinity of settlements of Al-Latamin, Kafr Zeta Maarkab, Kafr Nabuda and Lahai.