Interior Minister Arsen Avakov paid a visit to Washington, where he was received at a high level — Under Secretary of State Mitchell, who is in charge of affairs in Eurasia at the State Department, that is, a figure equal to the former widely known Victoria Nuland. They allegedly discussed the Donbass "reintegration" plan step by step with the help of peacekeepers for the final solution of the issue with the help of "Croatian" sweeps.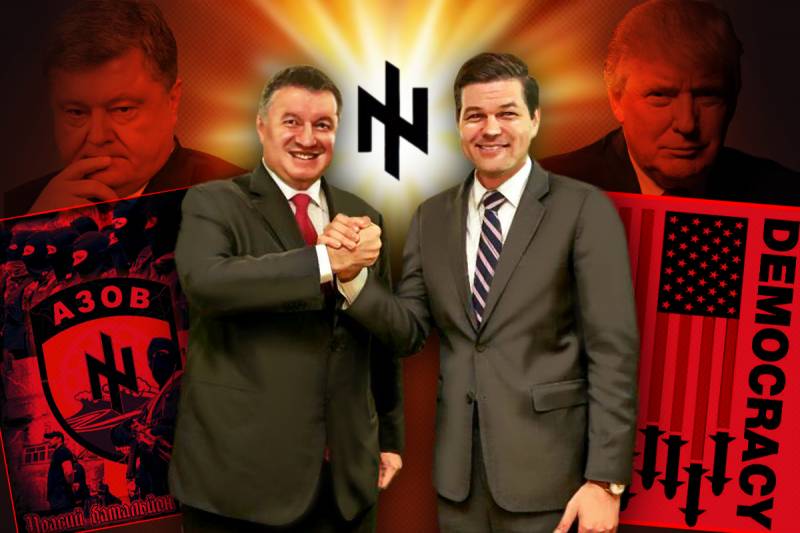 Kurt Volker, however, was not present here, even though he was the main one in America for peacekeepers, and could tell you that you need to talk about it at least with Vladislav Surkov. This fact suggests that Mitchell talked with Avakov rather about something else, perhaps about the recent forecast of Diana Francis, a researcher at the US Atlantic Council in Ukraine, which is very unfavorable for Petro Poroshenko, who she called a malicious corrupt official who opposes his "regime" "Honest forces" in Ukraine.
Arsen Avakov seems to be canonized by "honest forces", since he received an audience at such a high level. But Prosecutor General Yuriy Lutsenko, a friend of Poroshenko, was even denied a US visa, which clearly indicates that he was counted, and Poroshenko's chief, among the "dishonest forces" in Ukraine.
Known for his honesty and Kiev journalist Dmitry Gordon, boasting proximity to insider sources of information, recently shook the public with fresh leaks from the "top": in the coming months, Prime Minister Groisman allegedly lost his post, and the president and Avakov would completely break. In September, special elections to the Verkhovna Rada will be scheduled ...
All this is possible, there are many prerequisites for this. Contradictions between Poroshenko and Avakov came to the public plane a long time ago, however, only recently Avakov dared to declare that he would not support the election union of his "Popular Front" and the presidential vertical of power. This is, in fact, Avakov's open rebellion on a powerful ship.
Early elections to the parliament have long been discussed on all Kiev sidelines, as well as the fact that they can lead to general destabilization. Perhaps it was this scenario that was discussed in Washington by Avakov and Mitchell, but the press cannot be said about this, and Dmitry Gordon does not have insiders at this level.
The very fact that the meeting with Mitchell Avakov has a lot more important than what they can discuss. We note that Mitchell met not only with the chief of the Ministry of Internal Affairs Avakov, but also with the unofficial chief of the Azov national regiment, which even in the US Senate is recognized as a Nazi militia. That is, the State Department is betting on the most radical neo-Nazi formations in Ukraine, hiding behind talk of "reintegration of Donbass." At the same time he distances himself from the official representatives of Poroshenko. In anticipation of the new revolutionary events predicted by Diana Francis?
Despite the decline in the protest wave and the arrests of Vladimir Ruban and Nadya Savchenko, Poroshenko feels increasingly unstable in power, almost "does not pack his bags," political analyst Dmitry Korneychuk believes. Igor Kolomoisky from Lake Geneva asserts the same thing: Poroshenko remains alone, his long-time comrades leave him. In the apparent prosperity, it can only be explained by the fact that Poroshenko blamed Washington. This is confirmed, as it were demonstrative Avakov visit to Washington, and the refusal of a visa Lutsenko.
Apparently, in Ukraine one should expect a new operation of the State Department to "change the regime" to a more honest one, usually it coincides with some elections, and the elections to the Verkhovna Rada will be very suitable. As a number of political scientists have long been writing, only neo-Nazi parties can change the Poroshenko's corruption regime, since they have remained the only opposition forces in Ukraine, however, organized and armed. Interior Ministry chief Avakov may well lead them, may be acting from behind the scenes process.
America is losing to Russia on the Syrian site and may try to take revenge on the Ukrainian, bringing candid nazis to power in Kiev with their idea of ​​a real war with Russia, rather than a fictitious one, as Poroshenko constantly turns out. As part of a global war of sanctions with Russia, the United States may well risk destabilizing Ukraine, because they themselves will not suffer from this adventure, given their geographical position.
How it all can end, no one knows, not only the US State Department, but even Vladimir Putin. The adventure basically does not have a predictable ending, but it is better to prepare for the worst.