Apurva Chandra, the Director of Procurement at the Ministry of Defense of India, visited the Yantar shipbuilding plant in Kaliningrad (part of the JDC), Rosoboronexport reported.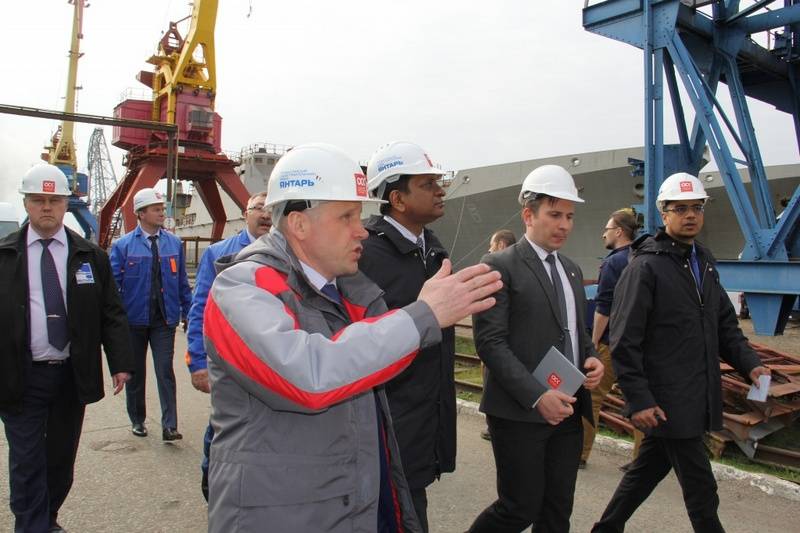 Of course, the key Indian-Russian project that we discussed here ... was the continuation of the construction of the 11356 frigates for the Indian Naval Forces. We were pleased to inspect the production workshops and the ready hulls of future warships, on-site familiarized with the technologies used at the plant. I would like to note the fact that the Russian side has always made every effort to clearly fulfill its obligations.
said Chandra.
In turn, the director general of Yantar, Eduard Efimov, said that the plant is ready to actively participate in the further development of the Russian-Indian technology partnership, ensuring the construction of frigates of this project at one of the Indian shipyards.
Earlier it was reported that the contract for the construction of four frigates of the 11356 project between Russia and India is planned to be signed in June of this year. According to him, the document provides for the construction of frigates under the "two plus two" scheme: two on the Yantar, two on one of the Indian shipyards.
A TASS source then also noted that the 11356 frigates hull at the factory would not be used to execute the contract, "the ships will be completely new."
Ships of the 11356 project have a displacement of about four thousand tons, their speed reaches 30 nodes, the autonomy of navigation is 30 days.