The terrorists "Jabhat al-Nusra" (banned in the Russian Federation) and the detachments of the "Syrian Free Army" (SSA) expand the territories under their control in the south of the SAR to create autonomy under American patronage, reports
RIA News
message military diplomatic source.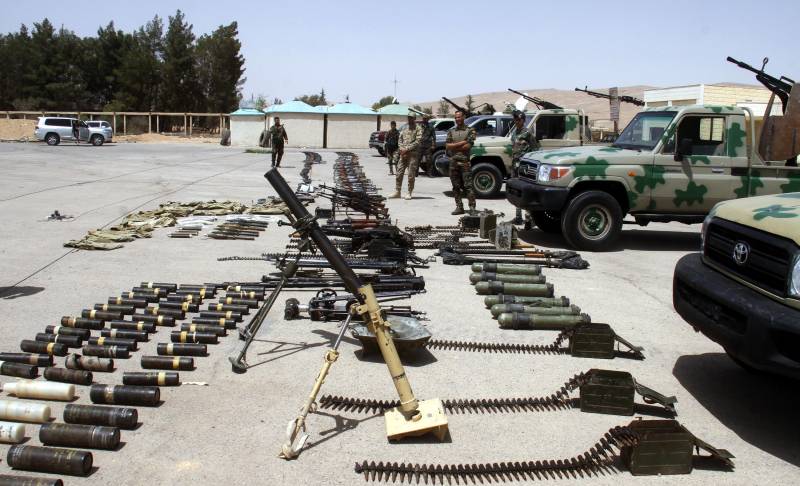 Armaments seized from militants in Eastern Gute.
In recent weeks, the situation in southern Syria has seriously deteriorated. Contrary to the statements of Americans, in the valley of the Yarmuk River, the main roles today are played not only by the "Syrian Free Army", but also by "Jabhat al-Nusra" and the ISIL gang (IG, the group is banned in the Russian Federation) ...
he said.
The source noted that as part of the monitoring center in Amman (includes representatives from Russia, the United States and Jordan) "facts of militant attacks on government troops in these areas are systematically reported to the Jordanian and American representatives, but no measures are taken to stabilize the situation and destroy the terrorists." .
In early April, the joint operational headquarters of Al-Nusra in Daraa sent to the command of other groups operating in the provinces of Essaouida, Daraa and Quneitra (three southern Syrian provinces) a call for coordination to conduct a simultaneous attack on the Syrian government forces,
he said.
That is, a "simultaneous attack on the positions of government forces is planned to capture the cities of Dara'a and Al-Ba'ath and the surrounding areas."
As always, militants' statements about the alleged de-escalation of the government's de-escalation regime will be the reason for the offensive. To enhance the effect, it is possible to conduct regular provocations with the "chemistry" of artisanal production allegedly against the civilian population,
explained the source.
The ultimate goal of the planned operation is the seizure and creation, under the patronage of the United States, of a territorial entity autonomous from Damascus, with its capital in Deraa, by analogy with the territories controlled by the VTS in northeastern Syria,
added on.
The source also said that convoys regularly flow through the Jordanian border into this zone, allegedly with humanitarian aid.
But what kind of cargo is actually delivered by these columns - no one knows. The entire transfer of the so-called "humanitarian aid" is controlled only by Americans,
he noted.
To attack the positions of government troops, only Jabhat al-Nusra and the "Free Syrian Army" units interacting with it comprise more than 12 thousands of militants, as well as hundreds of pieces of equipment, dozens of field guns and multiple-launch fire systems obtained through controlled by illegal armed formations with Israel and Jordan,
told the source.