On the eve of the TV channel
"Russia24"
showed a landmark report from Eastern Guta, the main character of which was the very same Syrian boy, who was poured with water over a hose in front of the camera, shouting something about "using chemical weapons". The boy's name is Hassan Diab, and he, along with his family, told how the events were actually developing.
From the air, which is unlikely to show the western man in the street:
We were in the basement. Mom told me that today there is nothing to eat, we'll eat only tomorrow. We heard a scream on the street, shouting: "Go to the hospital." We ran to the hospital, and as soon as I entered, they grabbed me and began to pour water. After that, they put us on a bed with other people.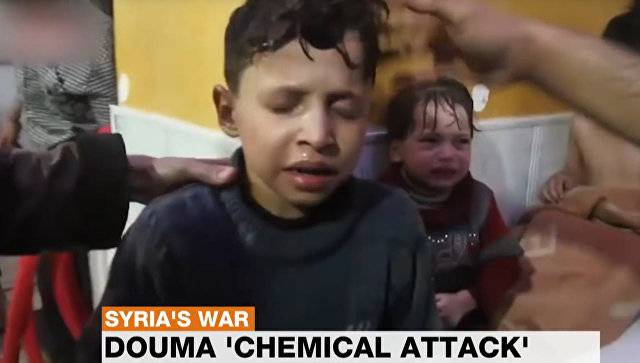 According to war correspondent Yevgeny Poddubny, the boy was promised a "generous reward". A hungry child was offered dates, rice and cookies.
The boy's father noted that there was no chemical attack in the Duma, and all the statements of the militants were aimed only at one thing: to try to hold on to the Duma against the background of the government forces offensive.
"White helmets", as you can see, use all means to achieve their goals. Taking advantage of the lack of food, they decided once again to make Syrian children hostage to the interests of those who themselves are actively sponsoring the "white shakers". The reason is at least to raise a question in the UN Security Council in order to recognize the "BC" as a terrorist organization or outright accomplices of terrorists.