The rating agency does not see in the new sanctions a threat to Russian banks. Until.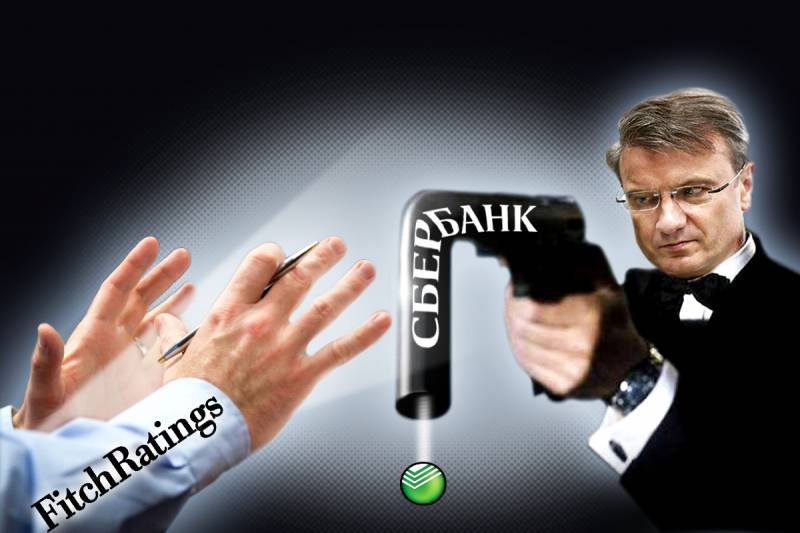 The prognosis of the international rating agency Fitch regarding the prospects for Russian banks has puzzled many experts even. Of course, it is not at all positive, but it's not frank to call it a language. However, we must not forget that in this case we are not talking about lowering or raising one or another rating, why there are not so many specifics in the forecast itself, as usual. And yet, in accordance with the Fitch forecast, new US sanctions, even if they are introduced, will not prove fatal for Russian banks. The forecast even clarifies that Russian banks will cope with the sanctions, since they have sufficient collateral to cover possible losses on loans from companies on the "black" list.
Fitch Agency in its forecast rated the ratings of Sberbank, VTB, VEB, Alfa-Bank and some others. In the opinion of the agency's specialists, it's not VTB, whose head is listed as one of the defendants already on the list of April 6, that is currently exposed to the greatest risks. Sberbank is most at risk, whose problems with quotations on stock exchanges, as well as relationships with companies and banks from the "April 6 list" are already written in Topwar.ru, and more than once (see, for example,
here
и
here
).
The risks of Russian banks at the agency are rightly attributed to the fact that many banks in one way or another will be forced to deal with lending or circulation of securities of companies and individuals who have already fallen under sanctions. So, if the same Sberbank was even reliably protected from sectoral sanctions, now, when conducting a sufficiently large number of operations with persons involved in the sanction lists, it may already be under sanctions itself. However, since the world economy is now very, very much connected with each other, all this may already hit the American companies and banks. And to get out from under the sanctions, it is not excluded, it will be necessary both for "our" and "not for ours" already together.
Compared with Sberbank, which, according to Fitch, may be at risk of up to 11 billion dollars, the potential risks of VEB, Sovcombank and Moscow Credit Bank are much more modest, not exceeding 10 percent of their assets. Additional risks of these credit institutions are associated with the inability to promptly reset doubtful assets. Selling or translating them into parallel structures will require not only time, but also very serious expenses, which again significantly increases the risks.
Many experts today agree that the Fitch Agency itself assumes considerable risks due to the rather optimistic outlook for Russian banks. However, they do not take into account that the rating agency, making a forecast, still risks to a lesser extent than those who follow this forecast. And Fitch could largely be based on the 2014 experience of the year, when the Russian response to sectoral sanctions was a large-scale reorganization of the national banking sector, which the Central Bank is just completing. Liberal economists call it just a sweep, and they also complain about the "creeping nationalization of banks", without taking into account the fact that the authors of the rating do not really care who owns the banks. They are concerned only with bare figures: what banks have in assets and liabilities, as well as how sufficient and liquid balances in accounts are. And with this, thanks to the efforts of our Central Bank, the majority of Russian credit organizations are doing fine now.
Therefore, there is little doubt that, following Fitch, other rating agencies will come out with moderately positive assessments of the prospects for the Russian financial system. And now it is not so important that several years ago, when the very "sectoral sanctions" were imposed against the Russian financial sector, they literally just as well drowned Russian banks. Moreover, almost everything except Sberbank, which then seemed to them to be "unsinkable". Of course, we must not forget that in the Fitch forecast we are talking about precisely those sanctions that can still be taken. But they may not be accepted. But it is quite clear that the forecast also took into account the very dubious effect of the sanctions, which were adopted just now.
Recall that the US Treasury Department updated the sanctions list for Russia less than two weeks ago, April 6, 2018. Then the list included a number of Russian businessmen and Russian companies. Thus, billionaire Oleg Deripaska and the company Rusal (in which he owns 48,13% of shares), as well as Andrei Kostin, head of one of the leading Russian banks, VTB, were added to the blacklist. The bank itself, however, did not touch.
We must remember for a long time what happened after that. "Friday, 13-e" began with a missile strike on Syria, which had in some destructive, and in some ways completely inexplicable consequences, which one of the historians has already managed to compare with the "strange war". And there was still complete indifference of the stock and currency markets, as if the stockbrokers had warned someone that that would be the way it would be. Only Israel continues to abut and again tries to bomb Syria. But this already seems to be the responses of the conflict, which for the present simply has no end and no edge.
In Russia, the first reaction to the April 6 sanctions was extremely nervous, although the fall in both the ruble and stock prices was stopped at the third trading session. A large-scale ruble devaluation has been avoided so far; the collapse of the stock market has not happened. Perhaps, too, so far, although the effectiveness of sanctions and blows, similar to the one that was inflicted on 13 of April, is already in the United States itself, and even more so in the EU is very doubtful. And although Russia didn't manage to avoid significant financial losses, they are still mostly virtual rather than real. Specific losses will now have to be considered no earlier than at the end of the year.
It seems that Russian banks, which have been successfully integrated into the global financial system for a long time, simply gave a kind of signal - adapt. Open branches, turn yourself into branches, divisions and branches, go to offshore companies, pay to western intermediaries. Do not count on the minimum percentage anymore, but if you don't stand out strongly from the general trend, you may not be seriously touched.
In fact, we are talking about the fact that Russia will have to pay again. As she pays everywhere and everywhere: both for payments in dollars, and for the right to freely sell her invaluable resources at uncompromisingly low prices, and in the end, for the right to at least somehow protect her own manufacturer. And if Russia pays, it means that not our banks pay at all - they will easily and naturally shift the burden of payments on their simple depositors. And they will still be crying to everyone in the waistcoat, as they did in the period of "sectoral" sanctions addressed to our financial sector. Well, it may be a sweep, but the sweep is just from the immense desire of so many banks to take and buy anything and everything, whether they are illiquid assets or "poisoned" bad debts.
Returning to the Fitch agency forecast, we note that it is not long-term, but calculated, as noted in the forecast itself, "only for the first time". And in the event that Russian banks continue to interact with companies that are on the sanction lists from April 6, this may hurt them in the future. Therefore, the risk for banks is not excluded. "Without state support, it can be difficult for banks to reduce their risks in connection with sanctions," the agency noted about this. So banks can sleep well. But not for long.