Hanwha Defense Systems (South Korea) and Malaysian AVP Engineering presented at the DSA 2018 (Defense Services Asia) exhibition the Tigon armored vehicle with the wheel formula 6x6, reports
TSAMTO
.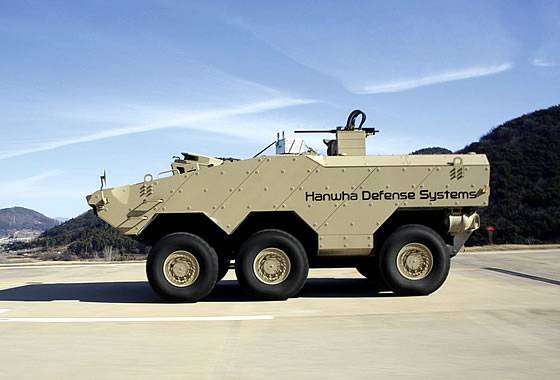 The Tigon armored combat vehicle was developed on the basis of the BBN "Black Fox" 6 company Hanwha Defense Systems with a view to its sale in the markets of the countries of South-East Asia and the Middle East.
The priority task of the companies is to supply the machine to the Malaysian Defense Ministry. In the near future it will be tested in the composition of the land forces of the country.
The BBM Tigon is equipped with a Caterpillar C9.3 diesel engine with 525 horsepower. and an Allison 4500 SP automatic transmission, can reach a maximum speed of more than 110 km / h on the highway. The machine has improved road performance on rough terrain compared to the "Black Fox", which are operated by the NE of Indonesia. In the armored personnel carrier version of the BBM, it transports up to 11 people, including the driver, commander and gunner, "the newspaper writes.
It is reported that the weight of the new machine is heavier than the "Black Fox" (18 t) on 3-4 tons (depending on the weapon selected). Her booking "provides an increased level of protection against firing from small
weapons
and from mines and improvised explosive devices. "
BBM can be equipped with weapons of various types. At the exhibition, it is demonstrated with a remote-controlled module with an 12,7-mm machine gun. The machine can be equipped with other DUMV - with 30-mm automatic cannon or 90-mm gun.