The Asia Times newspaper spoke about the shortcomings of the first Chinese aircraft carrier Liaoning (modernized "Varyag"), some of which are of "inborn" origin, reports
Lenta.ru report
.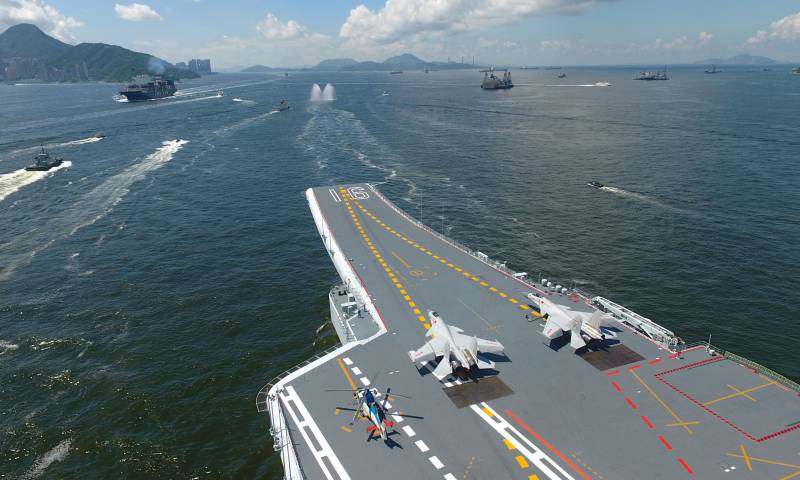 The newspaper refers to the report of the state television company, in which the test pilot reported, in particular, about the features of the landing of the fighter Shenyang J-15 (created on the basis of the prototype Su-33 purchased from Ukraine) on the Liaoning deck.
According to the pilot, to land on an aircraft carrier, the J-15 aircraft "needs to lose weight (
weapon
and fuel). " In this case, the take-off of a fighter is "much easier than landing.
The TV company noted that "for the modernization of the Soviet aircraft carrier, China's industrial industry produced more than 1,2 thousands of technological elements," however, Liaoning "is significantly limited in its ability to be upgraded, including due to congenital defects", and "significantly inferior to American aircraft carriers." Therefore, its replacement is required.
Help publication: "Of the seven aircraft-carrying anti-submarine cruisers project 1143" Krechet ", created in the USSR, to date, only three have remained in combat status. "Kiev" and "Minsk" were sold to China, where they turned into entertainment centers. Novorossiysk sawed for scrap in South Korea. "Ulyanovsk" dismantled even on the stocks. "Admiral Gorshkov" sold to India, where it is being upgraded to Vikramaditya - the future flagship of the country's Navy. "Varyag" was sold to China, where after the conversion it was named Liaoning. Russia has only Admiral Kuznetsov. "