Russian Aerospace Forces eliminated a large number of terrorists in Deir ez-Zor. In the Duma, a militant warehouse of militants was found. Reports about it
FAN
with reference to Syrian sources.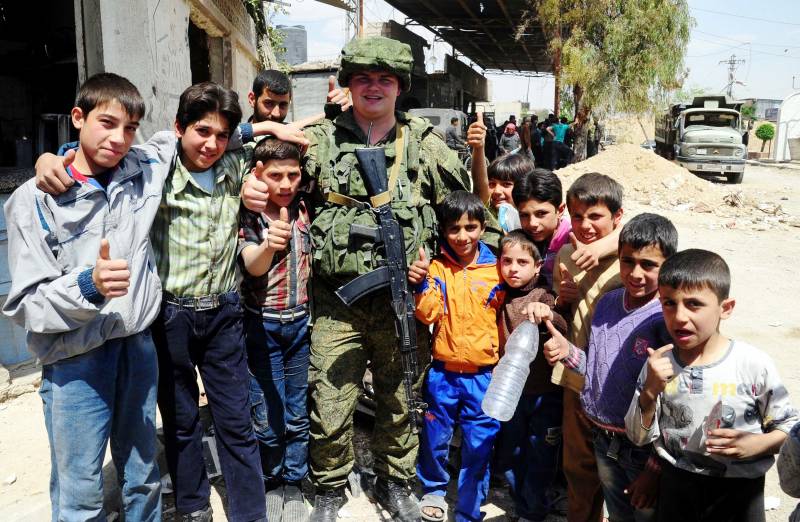 To the south of the Syrian capital, gunfire continued between the Syrian Arab Army (CAA) and the terrorists of the Islamic State (IG, grouping banned in the Russian Federation. In the city of Duma, two IEDs were laid in cars. There were no casualties. In the second half of the day a commission arrived The OPCW, accompanied by the Minister of Health of Syria. Later, Russian military experts discovered a militant warehouse in the city, in which toxic chemicals were stored, in particular, a chlorine bottle, similar to which was used in producing video allegedly demonstrating the himataki result from the CAR government forces. Recall that this video was the reason for the NATO countries to launch a missile attack on the territory of the Duma. A mass grave was found in the Duma where the remains of 30 victims of Islamists were buried.
In the north of the province of Homs, fighting continued between the Syrian Arab Army (CAA) and radical opposition groups. The CAA conducted mortar shelling of militant strongholds near the settlement of Zafaran. Also, clashes between government forces and militants took place in the vicinity of the settlements of Al-Lacan, Al-Ameria, Taldo and Izz ad-Din.
In the vicinity of Abu Kemal, clashes were recorded between pro-government forces and ISIS underground groups hiding in the territories controlled by the Democratic Forces of Syria (SDF) in the east of Deir ez-Zor province. Meanwhile, militant locations near the city of Sousse were targeted by the Russian Air Force. As a result of Russian attacks
aviation
a significant number of terrorists were eliminated.
In the southern part of the province of Idlib, the operation of the armed forces of the Russian Federation and the Syrian army against Dzhebhat an-Nusra (prohibited in the Russian Federation) continued. Russian aviation attacked jihadist strongholds in the vicinity of the city of Maareth an-Numan. Government forces conducted artillery shelling of Islamist positions near the settlements of Khan Sheikhoun, Tall Iss and Sukeik, as well as in the Mugeir al-Merzy area. In addition, Syrian aircraft dropped over the cities of Al-Foy and Kafray humanitarian supplies for civilians in these settlements.
Residents of the city of Kamyshly (Hasaka Province) went to a rally against the aggression of pro-American forces. According to a local source, the demonstrators burned flags of the United States and allied France and Britain, which participated in the recent attacks on the Syrian Arab Republic, as well as the flags of Turkey.