In 2018, the Ministry of Defense conducted an accelerated release of combined-arms commanders. This was the result of reducing the time for training officers by one year, according to
News
.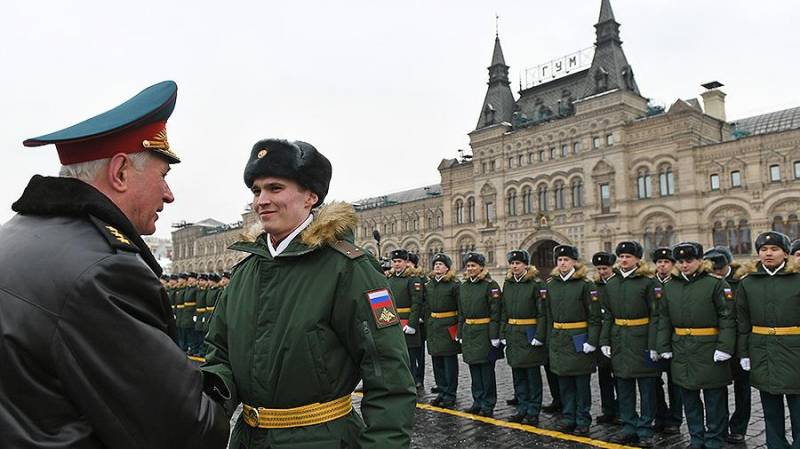 "In 2018, an experiment was completed on a four-year cadet training program. He was declared successful - from next year, all the combined-arms commanders will study a year less than before. In military universities, where they master complex technical specialties, the period of study will remain the same - five years, "the newspaper told the military department.
It is reported that in April, the rank of lieutenant received two categories of graduates: "those who studied last year out of five, and those who have already been transferred to a four-year program of study." All in all, this spring, the schools of the Ground Forces graduated from about 2 thousand officers - approximately 3 times more than a year earlier.
The publication reminds that a four-year system of vocational military education was formed in the Soviet Union.
A four-year study period is our tradition, backed up by years of experience. By the way, internationally recognized civilian training programs are also designed for this period. If you draw an analogy with civilian universities, the officer studies four years in a military school and becomes a bachelor. Instead of the magistracy - two years of study in the military academy. If he has a desire to continue his studies, the officer goes to the adjunct, where he defends his doctoral dissertation,
told the military expert, head of the department of political science and sociology of the PRUE. Plekhanov, retired colonel Andrei Koshkin.
According to him, a unique system of training lieutenants has been created in domestic military high schools: "even with a relatively low initial base, schools produce competent specialists." The expert added that "in the trenches there is no need to write essays and calculate integrals - the commander must lead people into battle, skillfully lead them and know the technique."