The Russian Foreign Minister gave an interview to the British Information Service BBC. During the interview, the talk was about striking the American-Anglo-French trio on the territory of an independent state - the Syrian Arab Republic. Lavrov once again repeated the thesis that for these countries actions without an answer from Russia will not remain. From the statement of Sergey Lavrov:
The consequences will definitely be. In essence, we are losing the last vestiges of trust in our western friends. First, they carry out punishment in the Duma in Syria, and then wait for the OPCW experts to conduct an on-site inspection. This proof through punishment is applied by a troika of western countries. Strikes on the basis of stuffing in social networks ...
What exactly Russia's actions could be if Moscow "loses the last vestiges of trust in its Western friends," the head of the Russian foreign ministry does not say. He didn't inform about the specific actions Russia is going to take in relation to Washington, London and Paris for an act of aggression against Syria.
Meanwhile, the Syrian government army has taken
tank
an air-supported attack on the positions of militants supported by the West, in the area of ​​the administrative border of the provinces of Homs and Hama.
As a result of the operation, a group of terrorists was eliminated in the village of Hamrat. The offensive was carried out using tanks T-55 and T-72.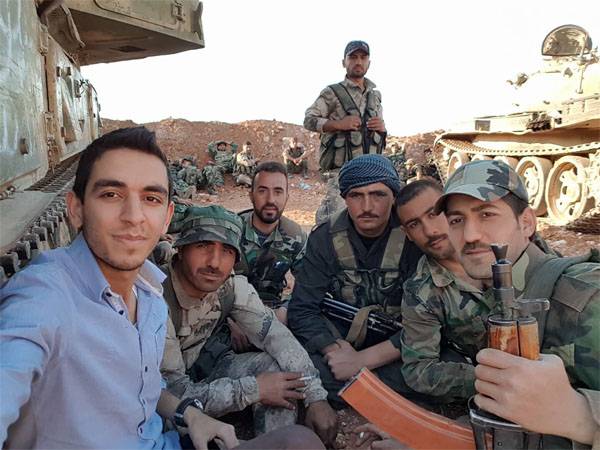 Heavy mortars and artillery pieces were used. The defense of terrorists was crushed in a few hours.
It is noteworthy that the surviving militants hurried to take refuge in the area of ​​El Rastan - the third largest city in the province of Homs after its administrative center and Palmyra (Tadmor). El Rastan enters the de-escalation zone. But after striking the United States, Britain and France in Syria, Syrian government forces may not stop in front of a "de-escalation" signboard and complete the liquidation of the militants in the area.
Against this background, it became known that Syrian helicopters were used over the province of Daraa (southern Syria) to distribute leaflets calling for civilians. The CAA urges civilians to leave their homes and move to Damascus-controlled ones, as an operation is being prepared against terrorists entrenched in Syria and near the borders with Israel and Jordan. Is it possible to assume that on this background, the West is already writing a fake about the "chemical weapons of Assad in Daraa"? ..
Read more..
.