The American edition of The Washington Post publishes
material
with the results of the missile attack of the US-French-British coalition on objects in Syria. The material also contains satellite images of the results of the shelling of objects with cruise missiles. Recall that, according to Trump, the strike on Syria was "super efficient". Satellite images are provided by the DigitalGlobe service, which analyzes satellite data.
The Barze facility north of Damascus:
Object Shinshar in the province of Homs. In the United States, they stated that it was "probably" stored chemical
weapon
: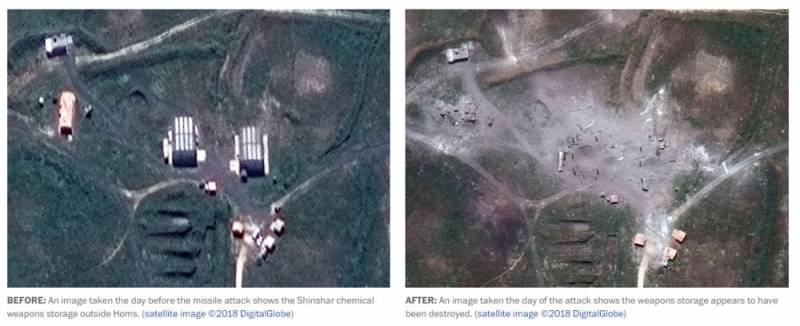 The submission stated that the goal of destroying the infrastructure that would enable the government of Syria to resume work on the creation of chemical weapons has been achieved.
Meanwhile, at the moment there are no satellite images of the airfields of the Syrian air force, which were hit by cruise missiles. In fact, this may be a confirmation of the statement by Colonel-General Sergei Rudsky, Chief of the Main Operational Directorate of the General Staff of the Armed Forces of the Russian Federation, that missiles aimed at airfields were successfully intercepted by air defense weapons.