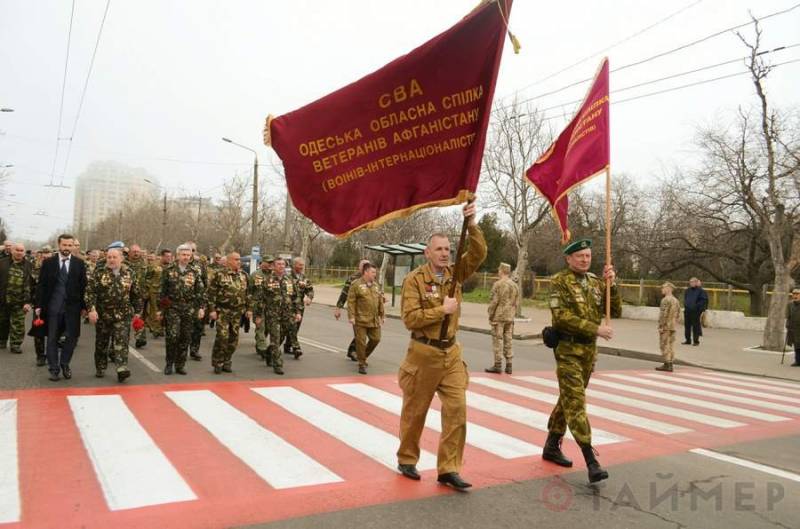 Greetings to you, my loyal friends and readers! Angry me today. On the one hand, it is ready to burst like a soap bubble, on the other hand, I don't look like a soap bubble at all. Rather, on the gas cylinder. Yes, with such gas, as at a monument to Vatutin watered.
In general, so we had to get under all this, but then I do not even know if I let him down or helped me out. I went with Batey, and that motor went berserk. While we were sitting on the bench, we waited for how the Valocordin would work, everything was already over.
I'll tell you in the first lines that I'm saying: we've reached it. How, who and where - a separate conversation, but reached. Someone came to the pen in his bestiality, and God be their judge. No Zhukov, no Vatutin, no Stalin - only hope for God.
But there are those who have reached the monument (such as we, only more abruptly, because in time). With flowers. The fact that they were smaller than all this filth - this is sad. The fact that people who were not afraid to come to the place where the Nazis and the Nazis staged a party - this is precisely what Ukraine has not yet died.
Although, of course, yes, in shit and paint, we are deeply. Alas…
It turns out the complete impotence of power in the face of the national police and these, "dialohistyh", and naviagrennyh fascists from 14. And normal people with tears are not from feelings, but from tears.
That's how we live. So we bloom, the same and smell. But Vatutin once again wash and clean. We, who are the Ukrainian people, are written on the monument.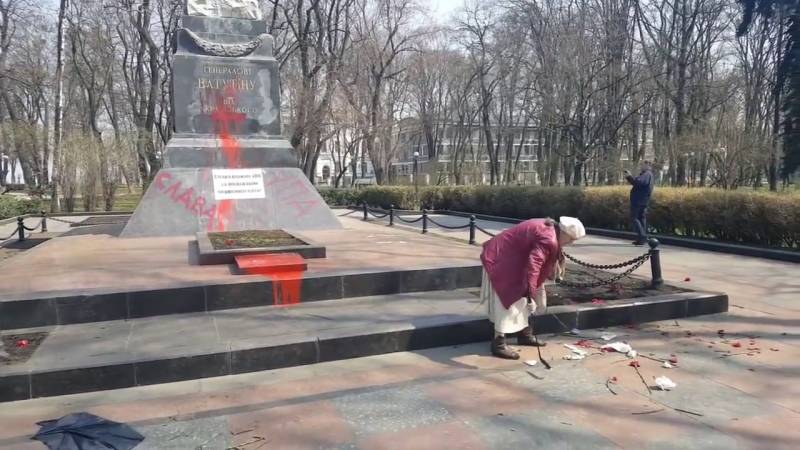 These are the cockroaches. Spring exacerbation of mental disorders. Although, this is not only ours. Around the world, "mental" activated. I don't know. Islanders how many teaspoons of tar they threw in honey? And continue.
But we, too, are not well off. We have another Peremoga. We again entered the next top 10! This time in the top 10 countries where works of art are most often stolen. This is from 1991 to November 2017. I will even list countries for pride. Iraq, Afghanistan, Syria, Libya, France, Austria, Germany and, about Peremoga, Ukraine!
Do you think we steal pictures and other these arts? Not! Just Ukrainians are attached ... I liked the man picture. Well, I decided to hang it in the hut. If you like something, you buy it. And we have a war with the aggressor. There is not enough money. So, we take for free and in secret. And when you get tired of looking at this art, we sell it. There is such a vein in us. Business
So, for information - the pictures are not relevant now. If anyone is there, do not hide it too much. We are now an agrarian power. In the garden, sculptures look good. So, if anyone has antique sculptures, have a look. Well, gold, silver, ceramics, antique
weapon
. I wrote it in all seriousness. For the whole world.
I have an interesting
news
from Lvov. You probably already thought about the next Bandera speeches. Thought correctly, but not right! Imagine a bar. Sunday evening. People rest. Music is playing. Everything is grand and noble. Just like in Russia. Including music. And then Svidomo Radko Mokrik appears.
As befits a real Ukrainian, he ran to the administration demanding that they sing only on the Move. And those, to him, brazenly, "our visitors do not like this language". In Lviv! In short, this was rado ... visitors. Hard like that. Moreover, it is with pride that I write, some of those who mutuzil jerk were "tourists from Kiev." Most of them are "tourists from Poland".
And we started another campaign. In Kiev, they began to rob what is not in Ukraine! Here we are guys interesting. We plunder and we destroy ... gambling institutions. On the left bank, a few were crushed, on Vasily Porik Avenue 13G, on Melnikova 5, on Kibalchich 19 ...
I really want to eat, and the people have almost no pennies. So they began to destroy the casinos banned in Ukraine. Classics of the genre. Camouflage, muzzle, bat and crowd. Smash everything and take away the money. On Porik, in the "Golden Horseshoe", by the way, they generally took the safe. Good safe, they say, but nothing, anything can be torn at the hut.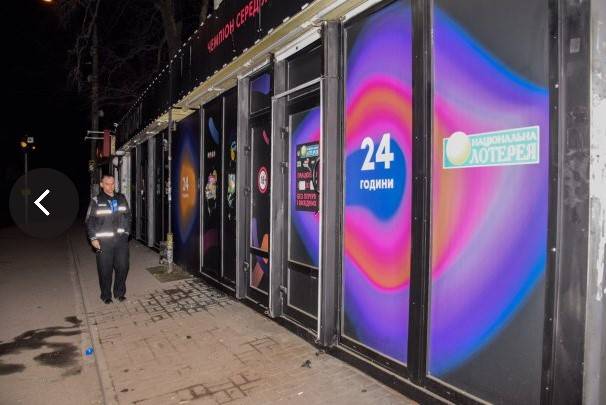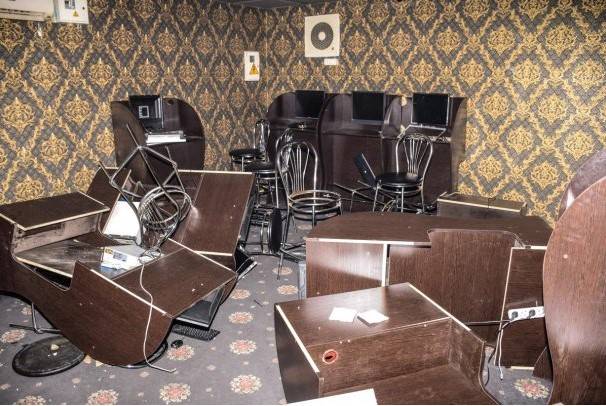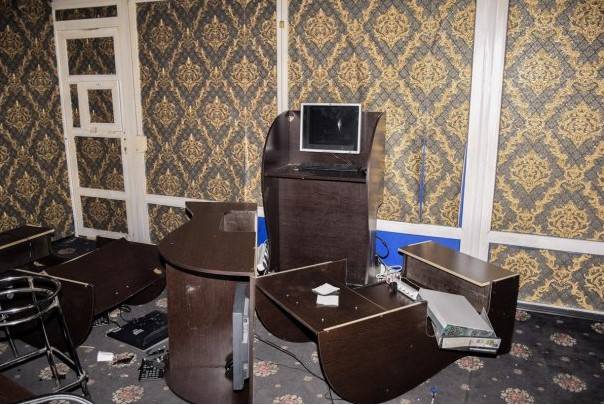 Rob the loot! By the way, I want a little "tune out the SBU" through IN. Hey, deaf-blind, who alone can, that squeeze business and invent Russian shpyugunov on level ground, I lay down - on the Heroes of Dnepr 3A acts illegal casino. And one of your roofs.
Although it is doubtful to me that the SBU will do something. Otherwise, where will MP Lyashko win the lottery?
On the other hand, is there something like that in it ... Makhnovshchina? Probably, but if the power consists of impotent, then what to do? Look, on the Andreevsky descent built "theater". Would kill the architect. This is about the same as what you have on the Vasilevsky descent to build a barn.
Now they are building a hotel there. In the same style. And what to do? On Wednesday, activists there captured ... a construction crane! A man came 20, three on the crane with the flag, the rest blocked all possible entrances. Everything. Odessans, namely, they are building this hotel, worked out.
My friends stopped driving to Kiev. Well, almost stopped. "You know, you used to come in order to just wander around the evening city. It's beautiful with you. It seems like you are entering the other world. And such a cesspool into which Kiev was turned today is enough for me at home." It's a shame, but I have to agree with that. The city is changing. Selyuk crush Kiev, alter under their own concepts about the city, about morality, about life in general.
And this feeling is not just me. Remember, some time ago I wrote to you about a new Ukrainian tradition - a daily grenade? Life goes on. And the armament of our people is increasing.
On the night of Friday in the Pechersk district, on the Omelyanovich-Pavlenko street 4 / 6, the Kievgorstroy building was shot from ... an anti-tank grenade launcher. And - hit. In the sales department of the aforementioned "Kyivmiskbud". But could and in the restaurant. There, through the wall "Hops-suneli" is located.
Feel, grow! Qualitatively!
I was talking there. The point was at night. About two. And even the tube from the grenade launcher saw. He lay across the road. I think that this is exactly the Russian saboteurs. The numbers on the tube were cut down so that we could not find out that he was from the Kremlin arsenal. I am waiting for this version to be voiced by some chief from the police or the SBU.
So, what is next? Expect the promised collapse of the dome of Lutsenko. Rada from 120-mm mines? Or go to the forest to dig up the great-grandfather's "forty-five"? Such a "progress" even starts to scare me ... I don't even want to go to the basement. In the cellar. And even better - in the bunker. For permanent residence.
In general, so rapidly wild. Or degraded. Who is more convenient. Simply degraded the word "wild" to master a little easier.
For example, we have revived the slave trade. Yes Yes. It is the slave trade that you read correctly. A resident of Vladimir-Volynsky used slaves for work ... on the Belarusian collective farm! Gathered men, brought to the Brest region in the collective farm. Sold the slaves to the chairman. I beat it off for a shot and sent it to work in the field. Salary, of course, took away his.
It is good that one of the men escaped and wrote a statement to the prosecutor. Already there unleash this thing.
"The young man, on the contents of which there are three minor children, was previously convicted of serious bodily injury and disorderly conduct."
That's the truth about the migrant workers materialized. Not zarobitchane, and slaves! And not only abroad, but also at home, in Ukraine. Here is another example. Donetsk region, village of Pokrovskoye, Mangushsky district. The owner of a car repair shop, he is also a local deputy, beat up and put his worker on a chain in his own garage.
So what? He is an employee. So it should work, not the right to pump and drink vodka. The owner said to paint the car - run paint. Absolutely slaves let themselves go ... By the way, other slaves of the owner supported. And even began to actively "otmazyvat" him from the police. I peeped in the protocol prosecutor:
"The police saw a man whose hands and legs were tied with a chain and adhesive tape. In addition, the man was intoxicated. The villagers turned to his master and asked him to calm down. The man tied his friend and locked him in the garage, explaining that he had no other choice. "
Here we are nazalezhnye and free ... steel. But the deputy also beat these defenders too.
Now a little about our new tactics of wearing out Russia. And what, we already realized that you do not want to fall apart from the sanctions and made an unexpected attack. We will now destroy your economy with trade development!
First of all, we forced you to confirm your readiness to partially use our CTA after 2019 of the year! Remember how your Gazprom talked about ending the use of our pipe? Ha, Poroshenko agreed. Novak your said that you give up!
"It was confirmed, we confirmed that we will be guaranteed to ensure deliveries under the existing contracts to European consumers. And we confirmed that we do not exclude some use of the gas transportation infrastructure of Ukraine beyond 2019 of the year."
How much should you deliver to southern Europe? 10-15 million cubes? Good. The rest we will get from these alternative suppliers. Only now we will find out who it is, so immediately and in addition. I talked to experts here. In order for the GTS to work for zero, you need to pump 30 million cubic meters ...
I was thinking here, here are our beauties on Russian highways. Beauty is shown to passing drivers. So there pay for the beauty! And if you show it from patriotism, it will be kind of free ... So it's with the pipe.
Yes, and our pipe must be urgently changed. It looks quite lousy. The USSR, even when built, laid such a pod. So that in a few decades it would be necessary to repair this pipe. Here are Muscovites ...
Although recently been at the gas station. There, at the gas station hose leak. Also, probably, from the USSR. So the workers removed it and threw it into some box. And a new hose was attached to the column. Did not even think to fix the old.
In general, probably, we should have enough hysteria. We are a hose and our business swing. How many will say, so much we will be. If we suddenly refuse, we cannot see reverse gas from the same Slovakia. With coal, they wondered over.
Last year, imports of anthracite to Ukraine increased more than three times! At the same time, imports from Russia amounted to 78,6% of all imported coal! 2,66 million tons of anthracite!
"In 2017, 78,6% of imported anthracite (2,66 million tons) came from the Russian Federation, while 99,5% came through intermediaries. a ton, and directly from the Russian Federation only 2017 thousand tons were delivered at an average price of 99,3 dollars per ton. "
"Slovak gas" anthracite sounds like "Swiss and British coal." From South Africa, Ukraine imported 2017 thousands of tons of anthracite in 714,1 (21,2% of total imports) at the average price of 92,1 dollars per ton (imports were made through Switzerland).
The average settlement prices for the import of anthracite in Ukraine in 2017 for the "direct" contracts were about 165 dollars per ton (170 dollars for the ton in 2016 year), and for "indirect" - 98 dollars per ton (73 dollars per ton in 2016 year ).
How do you mnogohodovochka? Donbass-Russia-Switzerland-Ukraine. In Rotterdam via Popenhagen ... How many of these "parasites" have now been divorced in poor Ukraine? I've looked at your sellers' earnings. 266 million. American hryvnia! Hmm ... Aggressor sell anthracite. And then we have the ATO and the aggressor attacked ...
Being expressed in medical language, we are sitting on the gas needle with our left buttock, and in the right one we also stuck the coal. If it goes on like this, no ass is enough to stick a needle. How much I did not consider the structure of a person, I have not found more than two half-pips anywhere!
And I will finish the same, than began. But for this we move to Odessa. They celebrated 74 anniversary of the liberation of the city from the Nazis. And so, April 10 in the city marched Afghans march! I mean, participants in the Afghan war! With red flags marched, with awards. Handsomely. Gray-haired, but they may well pitch activists. They are not shoved.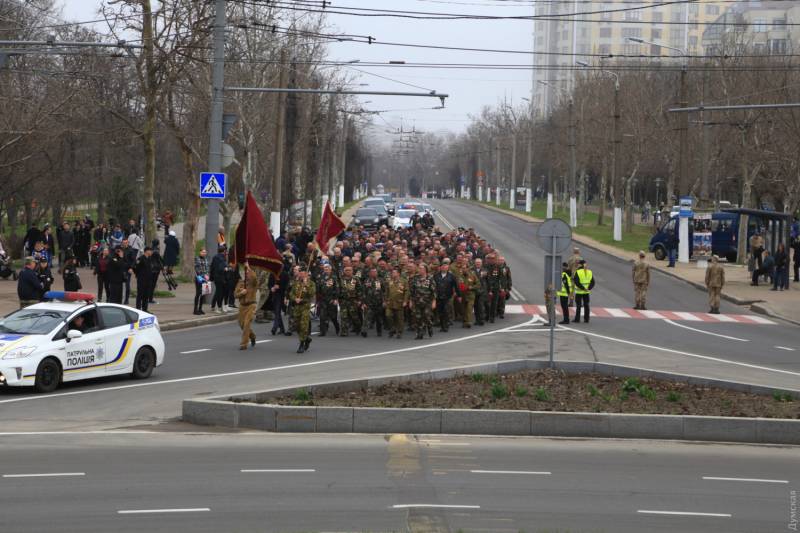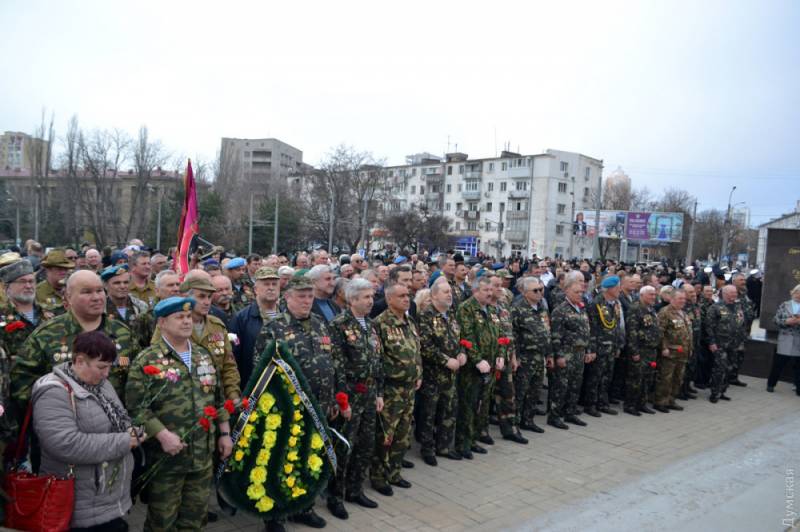 But that is not all. The next day, the Odessans again showed the authorities who is who (I do not express myself, I said in English). Imagine the reaction of the patriots when they began to sing the memorial "schenevmerlu", and heard the march "Holy War"! Odessans sang another hymn! Not even a hymn call. They sang amicably, beautifully, with feeling ...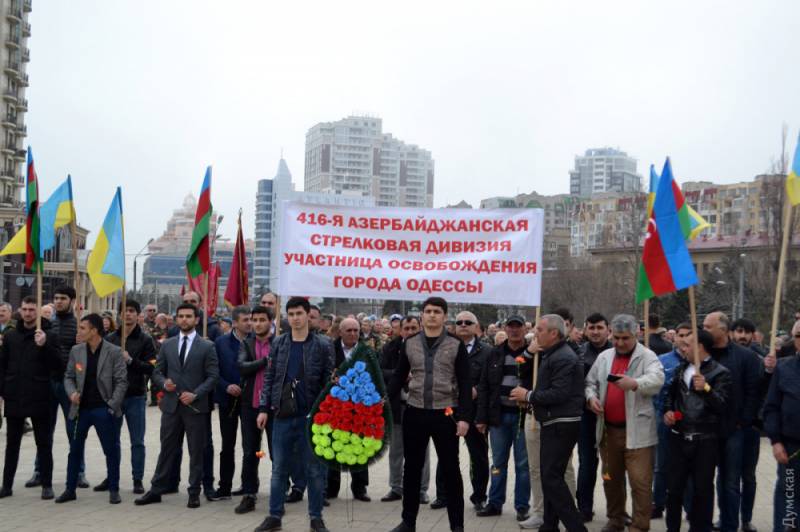 Oh, sorry, I was not there. But thanks anyway I will say. For memory and for courage. Marsh, albeit small, but a success. Judging by the way it froze on many "patriotic" sites ...
Everything. I finish and stop tormenting you with my thoughts and our next stupidity. But only for a week! See you. Will live!