The Russian defense ministry will receive three projects of a promising high-speed combat helicopter at once.
TASS
communication source in the military-industrial complex.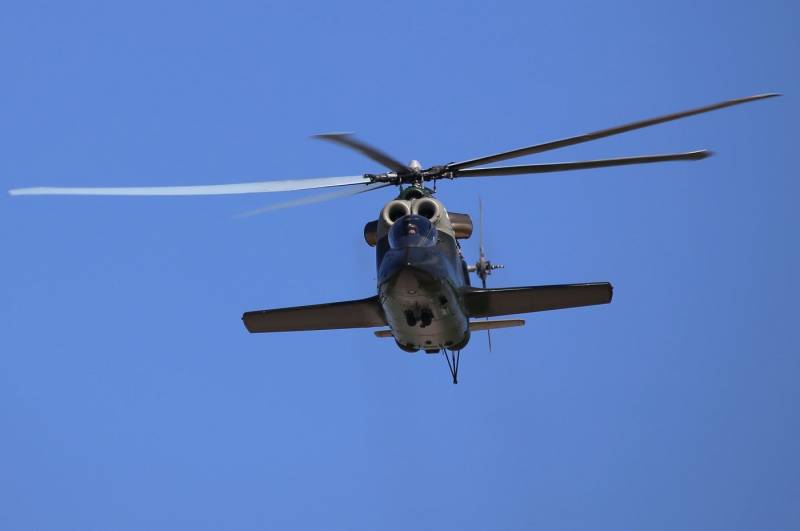 Flying laboratory of a high-speed helicopter converted from a Mi-24K helicopter
.
Earlier, the head of the Russian Helicopters holding company, Andrei Boginsky, reported that the concept of a high-speed helicopter for the Russian Defense Ministry would be presented by November 2018.
According to an agency source, "the department will be presented with three concepts of a high-speed combat helicopter with a different aerodynamic design scheme."
The first option is a classic helicopter with one main and one tail rotor. The second one is a helicopter with a combined power plant, where, in addition to the rotor, there are additional propellers on the sides of the hull pulling the helicopter forward. They compensate for the torque from the rotor. The third scheme is a twin-screw coaxially with rigid rotors and an additional pusher screw in the tail, the so-called propulsive propulsion,
said the source.
He clarified that, at the request of the military, the maximum speed of a prospective combat helicopter should be "400 and more km / h, cruising - 360 and more km / h".
The project of a perspective combat helicopter assumes that the vehicle will be armed with the entire nomenclature of means of destruction - these are cannon armament, guided and unguided missiles and bombs,
added source.
Recall that at present the speed of combat helicopters does not exceed 300-350 km / h, which is associated with the design features of this class of aircraft. Designers of a number of countries around the world are also working to create high-speed helicopters, for example, the S-97 Raider - in the USA, Eurocopter X3 - in Europe.