British Prime Minister Theresa May officially confirmed the information that the decision to attack objects in Syria was made without the consent of the Parliament - only at the level of members of the government's power block. By itself, this fact becomes a precedent for Britain, where the system of parliamentarism has not been ignored of this kind without exaggeration for hundreds of years. Similarly, the US president also ignored the opinion of the parliament. Now, congressmen have to pick words to evaluate Trump's actions. On the one hand, it's impossible not to approve, on the other hand, it's also impossible to fully approve, as it turns out that the opinion of political elites in Congress can be ignored to make decisions that are most important from a military point of view.
It is known that four planes of the British Air Force took part in the aggression against Syria. They were raised in the air Akrotiri airbase in Cyprus.
According to Theresa May, the air strikes against the SAR did not aim to change the "political regime".
May in reference to the nation:
Our attacks were aimed at preventing the use of chemical
weapons
in Syria. We had alternatives, but the situation was reduced to the fact that we considered strikes the only possible way out of the situation.
On the eve of London, many thousands of protests against the bombing of Syria took place.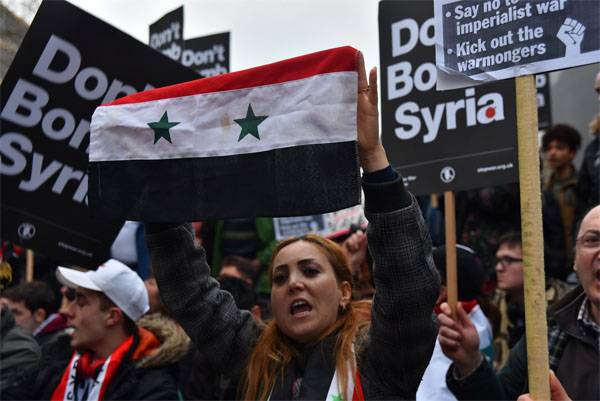 On the streets of Damascus, thousands of people are gathering at these moments, who have decided to protest by the actions of the US-French-British coalition.
It is known that Defense Minister Sergei Shoigu reports on events in Syria and around Syria to Russian President Vladimir Putin.