The unceasing nagging of the military omnipotence of the enemy is no better than the rampant hats and moods.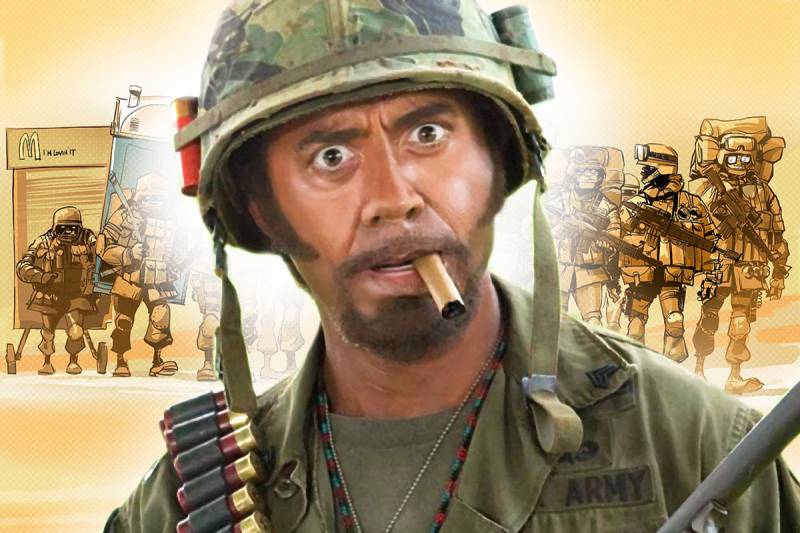 I never thought that in our Fatherland there are as many military experts, as it turned out in recent days. Not to mention American specialists
the fleet
. They make round eyes and announce with significance in their voices: they already have two destroyers and 60 cruise missiles on each one, off the coast of Syria! And the third is on the way! And even an aircraft carrier with cruisers will soon arrive in time. Mamma Mia! This is such a force! America, in a word! Where are we, the poor and the wretched! As they crave, so from that Syria some lumps will fly! And all of our air defense there, even these 120 "Tomahawks" "will not intercept." In general, extinguish the light, drain fuel oil and start negotiations. About what? Of surrender, of course!
I want to tell something to these thinkers, for whom America is always the most intelligent, strong and beautiful, almost like Trump has his rocket.
The first. Let these missiles be not even 120, and all five hundred. So what? Multiply 500 pieces by approximately 500 kg of explosives in each. We get to the circle 250 tons of something like trinitrotoluene.
For reference: to Vietnam American
aviation
during the war in Indochina, it dropped about 3 (three) million tons of bombs and missiles! Many of which were also quite manageable and relatively high-precision. And what is the result? And such that America with its Vietnam war managed so thoroughly that then for ten whole years it did not go anywhere. For fell into a deep depression.
And then some 250 tons! And then, if you still gain the whole 500 "Tomahawks" in the volley! Kuram to laugh! As for the expert oracle, which is mandatory in such cases, about the fact that they are not some, but highly accurate, I will say this. All these extremely smart missiles that, according to legend, can even fly into the precisely indicated small window, are good only when striking fixed targets with previously explored coordinates. Well, there, for example, at some power station or embassy. As it was in Belgrade with the Chinese diplomatic mission. Using the "Tomahawks" to chase the troops that were withdrawn into the open field or their military equipment is absolutely empty. And since the Syrian command and the entire army are not so stupid as to sit in winter apartments at such a time and wait for the American Ax to fall on their heads, we conclude that there is someone who will, and the armed forces of Syria will suffer less with such a blow Total.
No, of course, some part of "Tomahawks" still fly and hit. With the formation of large holes and cracks on the facades of some buildings. So, what is next? What does all this facade damage to the military defeat of Syria? Yes, absolutely no! Because with such a scanty ammunition it is possible to incapacitate, unless, a separately standing barn. But not the whole country.
And yes, by the way, about the barn, too, is not quite sure. In any case, the last time the 59 missiles were officially launched at the Shirath air base in the same Syria and, as they say at the Pentagon, they all flew to the target. It would be better if they didn't say that, because that same airbase remained quite alive for it after that. What tells us that these "Tomahawks" even in the number of dozens, like
weapon
, absolute bullshit.
But this is not the most important thing. And the main thing is that with air strikes, wars do not benefit in principle. From the word at all. Well, there has not been such a case in the world
stories
. And, most likely, will not. The fact is that a country, and any country, is a pretty extensive thing. And the possibilities of those who are trying to "cultivate" this huge space with the help of conventional bombs and rockets, so to speak in the square-nesting way, are quite limited. And this is to say the least!
We have already reminded about Vietnam. In Germany and Japan, the Anglo-Saxons dropped a few less bombs, but also more than one million tons. And what would you think? By the middle of 1944, the volume of military production in Germany for all major indicators increased about three times compared with the period before the start of the so-called "carpet bombing".
And this is in densely populated Germany, where the military factories stood literally wall to wall. As they say, I do not want a bomb! What to speak about semi-desert Syria, where, in general, there is nothing much to bomb.
To defeat such a country, and indeed over any other country that values ​​its freedom, bombings and rocket attacks alone are not enough. The country is not only extensive, but also very tenacious. Especially if she has been fighting for five years. Because I got used to it. And she will not be frightened not only by the Finnish knife, but also by the American "ax".
In order to subdue such a country, you need something much more than the banal throwing of bombs and rockets. In short, we need a land operation. Such that the soldier of the invading army, trampled every foot of local land with his boot and stepped on the throat of every local patriot and hater of America. For if it does not come, will get a bullet.
And it will be very, very difficult for the West to do this. Because he doesn't like to fight as a passion, as all normal people fight - wall to wall, on the battlefield, with the rivers of their own blood flowing from this fact. Western armies and, above all, of course, American, they are not even armies in the usual sense of the word, but such clubs for their own interests. Where are all sorts of mercantile citizens, concerned not so much with feats in the name of the fatherland, as a personal, selfish question. Someone needs to save up money for college, someone to get citizenship, and some even preferential dental insurance will not hurt. And the dead, as we know, neither teeth, nor education, nor even money for nothing is needed. Therefore, all these countless crowds of businessmen in military uniforms committed are not going to die either in general or, all the more, for some abstract ideals.
That is why the American army suffered a fiasco in almost all the wars it had ever waged. And especially after the Second World War. With the exception of rocket attacks on certain morally worn states, such as Yugoslavia and Iraq, the American army was washing its hands with a bloody bitch everywhere where it met with any serious resistance. Korea, Vietnam, even Iraq with Afghanistan, where they still get their tails and manes - this is evident evidence of this. Such a "business-army" can only beautifully and quite triumphantly fight on a Hollywood screen.
In general, the land, contact war on its own - this is definitely not about America and not about the entire pampered West. And they already tried to send in front of themselves crowds of all kinds of dirty barmaley. And nothing came of it. Right now, the Syrians and Russians are chattering the latter. And if the US marines, globally distributed all over the world, are so proud on their cruise vessels in the middle of the ocean, they will try to go to some local beach, they will be exactly the same meat grinder that went to their ancestors on the Gallipoli Peninsula on World War I. By the way, this place is very close to Syria. So the "tanned nape" will have something to remember before they zapper along the route "from here and into eternity".
With all this in mind, it is absolutely incomprehensible to me, on which all the present lamentations about the imaginary invincibility of America are based, which, they say, in one stroke with seven kills. I see no reason for this. Unless, of course, this is not the basic desire to quickly surrender to captivity, where, as you know, a whole box of cookies and a barrel of jam are waiting for everyone.