Information sources today report on a likely reform in the structure of the new cabinet, whose composition will be known 8 May. One of the directions of the reform is the management of the fuel and energy complex of the country. It is noted that during the optimization procedures, the Ministry of Energy and the Ministry of Industry and Trade may be merged into a single ministry, the range of which, for obvious reasons, will expand.
In fact, this development is not exactly an innovation, because the mentioned departments were already a single whole - before the 2008 year. Then they decided to divide them against the background of problems with the global economic crisis that hit the Russian economy.
The project of reforming the governing bodies of the educational system is also discussed. There are comments from experts who say that the plans include a possible division of the Ministry of Education and Science into two departments. One of which will be solely responsible for education, and the second - for the management of scientific activities in the country.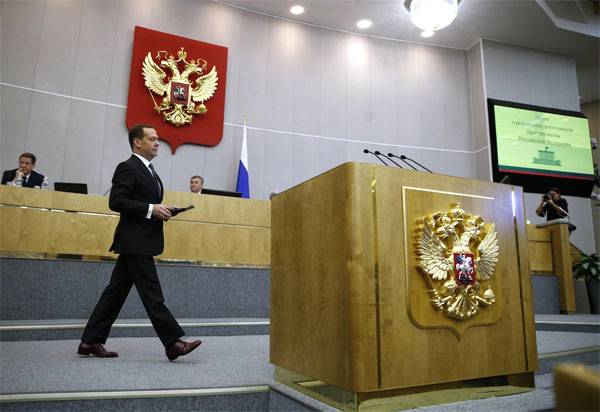 Meanwhile, the
RIA News
publishes the opinion of political scientists that the new Russian government is unlikely to be radically different from the current government - both in terms of its "thought" and its composition. It is noted that more than half of the current ministers will retain their seats if the cabinet system itself is not reformed. The greatest chances to keep their posts are Sergey Shoigu, Veronika Skvortsova, Alexander Tkachev. Sergey Lavrov has a high rating, but rumors about his readiness to leave the post of his own free will continue to spread. There is a high probability of "vice-premier cleansing."
To the fact that the composition of the government, if it undergoes changes, is by no means of a cardinal character, is brought in by the quite loyal reaction of the State Duma deputies to the speech before them of the current Prime Minister Dmitry Medvedev. And also how Medvedev's report was presented on federal TV channels.
As the diplomats say, "the meeting as a whole was held in a warm, friendly atmosphere."