US President Donald Trump continues to turn his Twitter into the mainstream media of the modern United States. After statements from the series "the rockets will fly soon, and maybe not soon," Trump decided to recall the former FBI director James Komi - to remind, to put it mildly, not in the best colors.
Recall that Trump dismissed Komi "for incompetence and inability to effectively manage" 9 last May, which gave American conspiracy theories to declare "a gift to Putin." Komi made some false statements about Hillary Clinton's letters speaking to Congress.
According to Trump, Komi is a "leak man and a liar."
Trump:
He lied before Congress under oath. (...) He is a weak and deceptive lump of mucus, which, as it turned out, was a terrible director of the FBI. It was a great honor for me to fire James Komi.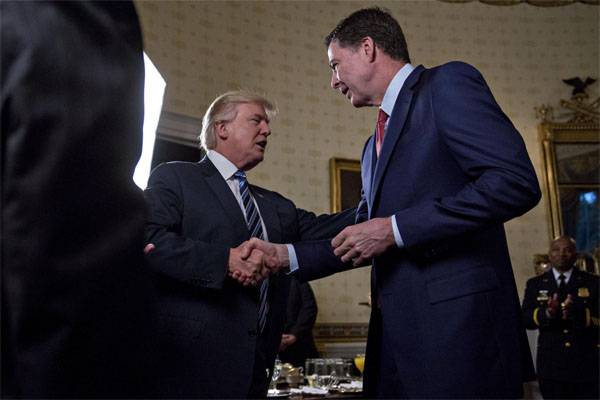 It is noteworthy that the options "fire" and "shoot" in this case are provided in fact as identical translation options - the expression "to fire".
And initially, Trump spoke of Komi as a remarkable specialist and "one of the best directors of the FBI."
Such statements eloquently testify to Trump's "diplomacy" level, which is not a revelation for America itself.
Psychologists, commenting on Trump's tweets, point out that the current president of the United States often has emotions over composure, and attitudes toward the same event or person can drastically change from anger to mercy and vice versa. A vivid example is the reaction with allegations of a Syrian missile attack, when Trump played back.
It turns out that from Trump, who now declares his readiness to meet, for example, with Kim Jong-un, against whom the AUG directed a few months ago, we can expect to "play back" and make statements about the "animal Asad", or this is not the case ? .. In any case, as the Americans themselves say on social networks, the president of the showman is at the head of the state, and therefore the policy has been turned into a show.